Sorry for the sudden disappearance from the blogging world, my dear readers. Planning the Hear Us Out 11 Conference while waddling through the back-to-back assignments was of no joke.
It was 3 weeks into the planning and preparation of HUO 11 that the ugly side of stress roared its head. I'm not the perfectionist that Teochew Mama is (hell if I am!), but I am unwillingly admitting that I can be found stressing myself too much over my assignments and such. As much as I hate slogging in front of the computer screen and struggling to finish everything at the last minute, that exactly happened. It became so bad that an extension to the deadline was necessary; I was about to crash under the weight while my teammates were going through some issues of their own.
I suddenly fell under the weather in class two Fridays ago: while my vision turned blurry and my eyes ached at the bright ceiling lights, I could feel my legs becoming numb. It became so severe that I skipped World Issues and pleaded with my classmate to pass on the message to the lecturer that I'm not feeling too well. Not only was my head dizzy, but my stomach was churning to the point where I almost threw up.
I thought that taking the weekend off to recuperate would do the trick but boy, was I so wrong. The headache returned to taunt me while we were planning to head out to lunch. I didn't want to stay back and rest because what I needed was food and 100Plus (because of electrolytes) and I felt bad for asking Faustina to buy for me.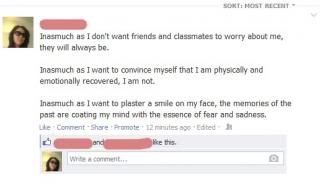 My Facebook status, written shortly after the second recovery
Gosh, Lord knows how hard I tried to hide it but she and Dexter saw through the invisible protective shield, becoming really worried for me.
And as I later found out, it was the combination of a lack of adequate, quality sleep and strong turmeric that landed me with two episodes of intense headaches. Sigh, what in the world was she thinking?
I'll only be able to blog about HUO 11 once I'm able to lay my hands on the pictures taken during the conference. As I was one of the many presenters, I couldn't slide into the photographer mode.
And I didn't bring the digital camera with me. =.=
On the overall, I can feel the stress level dissipating to a much more controllable level now.