I can't believe how swamped I am with my academic schedule.
Let's see, I have two Media Arts assignments that include a vision logo and a peer tutorial video and a Human Rights presentation for Law - all of which are due on the Friday after Chinese New Year. I'm less worried for English because the only remaining homework left is to complete the readings of Life of Pi. Not to mention, I have to cover the Student Council election results on the same day for Student Voice.
Sigh, what a busy day it will be.
I suddenly remembered that I haven't finished writing about my travel in Western Australia and pretty much squeezed some time out to settle. Days sixteen and seventeen will be published in a couple of days' time.
I'll make sure that it is up before I return to campus.
Oh, Happy Chinese New Year to all of my friends and readers!
Day 15
It's an Anglican Church that we visited. No questions, please.
When the realization of not exploring Claremont Quarter while we were in the vicinity of Claremont knocked on our senses, we immediately knew that we had to return to the suburb again and pick up from where we left off from the previous day. Yes, we could've taken the bus down as another way of exploration but seeing that it was our second last day in Western Australia, it was best that we stick to the familiar routes for the fear of losing our way there.
Anyway, it was almost noon when we arrived and immediately headed for the health store to pick up a couple of items that aren't readily available in the organic stores in Kuala Lumpur - but certainly not before some photography sessions. Mama Carrie, being herself, demanded for my cell phone (I forgot to bring the digital camera out because it was running dangerously low on juice) and started capturing random photos of people and flowers.
I know what you're thinking, my dear readers. On one hand, I am complaining about the ridiculously high exchange rate yet on the other hand, we are buying things like we're not bothered at all. *shoots a glance at Mama Carrie* But she did say that if we were to care for the price after the conversion into ringgit, we can't even eat our meals.
Nope, I don't mean restaurant food.
While we were heading off, ready to head into town, the display of attractive heels on 70% discount in a shoe store attracted Mama Carrie's eyes, stopping her in her tracks. It only took her a split second before she dragged me inside with me, persuading me that if I wanted to buy a pair of heels for prom, it should be right now.
My eyes widened when I heard that because I intended to use for prom, the pair of 3" inch beige-colored heels from Vincci that she bought for me many years ago, not a brand new pair. After much convincing, I relented but since the store didn't have the particular color in my size, you'll have thought that she'd have surrendered, right?
Nope, she asked the sales assistant to check if other branches carried it.
We stopped by The Coffee Club for a late lunch when our stomachs begged for more fuel. Between us, we ordered a plate of Pumpkin Roll and two mugs of Cappuccino.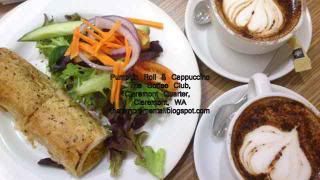 I really have no idea how much caffeine I have consumed throughout the stay in Western Australia, but I doubt it'll beat the amount I'm ingesting as a college student tackling the assignments a paper at a time. Believe me when I say that because there was once that I actually drank 4 cups of coffee just to stay focused on my academic work.
I thought that it'd be the end of our trip but no, when we were riding in the train cabin back to Perth Underground Station, Mama Carrie demanded that we take the Yellow CAT down to Harbor Town to buy that pair of shoes before someone else buys it after we caught a quick shower and a change of attire. Personally, I've always believed that if it's meant to be yours, it'll be yours. Plus, how am I going to match it with the prom dress of my choice? Both are of different colors.
Fighting back exhaustion, that's what we did. *rolls eyes*
This is the pair of heels that sent us from Claremont back to Harbour Town. >.<
It took us a while to find the store because although the shopping mall is of the same size as Subang Parade, there wasn't any personnel whom we could approach and seek for directions. Yup, I'm that serious. Claremont Quarter doesn't have an information centre. When we finally found the store (it was sandwiched in the quiet corner of the first floor), we checked with the sales assistant, who then confirmed that it was the last pair - in my size, that is.
I could see it in Mama Carrie's eyes that she was inferring that luckily, we came right away. If you were right there, you'd have seen how crazy we went with the shopping. There was some kind of discounts being offered that pretty much tempted us at every corner - from shoes to apparels.
The travel must have encouraged the digestion of the lunch because shortly after I paid for the heels, I felt a wave of hunger pangs torturing me. I didn't mind grabbing a sandwich from Subway, but we eventually decided on The Coffee Club (again!!)
The menus at Harbour Town and Claremont Quarter differed from each other, I must say.
Now, can you believe that we suspected for a moment that coffee grinders weren't sold in Kuala Lumpur? Not wanting to risk the chance, we went to Harvey Norman, which was behind Harbor Town, while we were still around and purchased a rather simple coffee grinder.
(My face dropped to the floor when we swung by the local branch of Harvey Norman and saw the coffee grinders grinning at me from the aisle. What?!)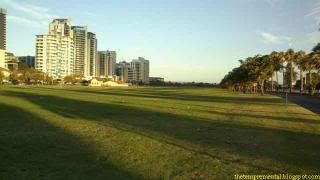 Langley Park, taken during the sunset
Swan River, also taken during the sunset