After weeks of staying away, I am now returning to the blogging world again.
I am slightly relieved that the intensity is beginning to settle down into a manageable pace for em to catch my breath even though I spent almost the entire day yesterday and my morning today to film my scenes for the Media Arts Premiere Pro assignments. It's not even complete yet; there is one final scene that I need to record either tomorrow or Monday.
I'm like a fish struggling to stay afloat in a river. The weight of the assignments, especially the ISUs, is starting to burden my shoulders the way it did last semester.
It's about time that I catch adequate sleep from now onwards as those late nights are starting to catch up on me. I thought that I can stretch it since I'm still young but boy was I proven wrong. Staying up until 4 am many Fridays ago to prepare for a Law debate on the G20 Toronto protest on the same day had its adverse effects and is one of the many examples on how I am risking my health to score.
How was I able to cope up until now?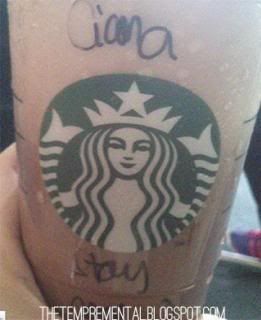 Coffee.
And loads of it.
I'm being serious, especially when Shaney and Bearie have seen the way I drink coffee. I could easily buy two medium-sized cappuccinos from Starbucks and San Fran and would probably finish one of them before we arrive on campus.
Haha, I'm not a Superman like Kyle; he's always heading off to bed later after the completion of his assignments yet he doesn't look like he's going to crash unlike me.
Since Mr. Layng adjourned the class earlier than expected, there was about 10 minutes for me to catch forty winks at the lounge before joining the dear for lunch. The beauty of having a mutual free period, huh? So yeah, I slept while listening to music on my cell phone until I felt his tap on my head.
You know how one pats a dog? Well, yeah, that's exactly what he did to me. =)
Classes are bearable although I'm currently sprawled on the floor at the moment. If you look at me now, it'll remind you of how Big Fat used to do the same: all fours spread out on the floor, like a rug. Staying back on campus a couple of weeks ago when all I wanted was a cooling shower and loll around the house because of Mama Carrie's tea date with her colleagues was of no fun.
Although I have inferred multiple times that I will be more than willing to sacrifice my social life to achieve great grades, I take back what I said. It's really tough to be constantly facing the assignments with no break at all.... you see nothing but the pile of white papers with the accompanying rubrics. Don't forget; I have to accommodate the Yearbook and Student Voice plus the blog into my jam-packed schedule.
So yeah, here's to hoping that I am able to catch some me-time after this. I fear that I could descend to a wave of unwanted tears if I don't.