Staring at the remaining Worthy book vouchers that I still hold, we immediately knew what we wanted since what was meant to be a dining trip to Brickfields landed us in a quiet residential cafe in Lorong Kurau, Bangsar instead.
Nestled between the condominiums, the average-looking houses and the well-known press companies, Cultura Bakery is hidden away from the dizzying traffic congestion and offers a sense of tranquility to all of its customers.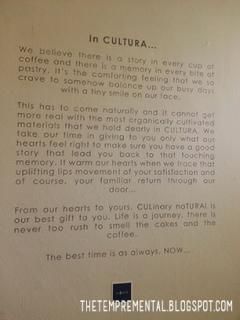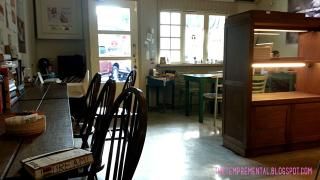 We were enveloped with the warmth of a welcoming cafe when we stepped in, with the evening sun spilling in at our entrance and making it more homey; it may be smaller than envisioned but it makes up for the lack of size in coziness. The placement of an older sewing machine by the entrance ignited a memory of my grandaunt in her pair of spectacles, concentrating hard on hemming the seams of the silky material to make beautiful cheongsams for her daughter and nieces and on her tapestries. Next to it laid was a complimenting part of art; it was brilliant to perceive something so plain yet unique.
I really admire the idea of Cultura incorporating the love of reading into their cafe by placing piles of books along the table, tempting the bored diner to flip through his or her favorite creative piece while enjoying a cup of coffee and toast. For someone who has an avid interest in reading, this is a plus point because not many cafes or coffeehouses go to the extent of providing a variety of reading materials, some of which I've never seen before.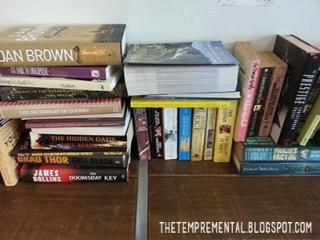 A list of books for the voracious reader.
Peeking at the far end of the bench table is a handmade book with the unique words "DREAM" as its spine where diners can pen personalized messages and heartfelt wishes for Cultura. (If you're fluky, dear readers, you may stumble upon mine. *winks*)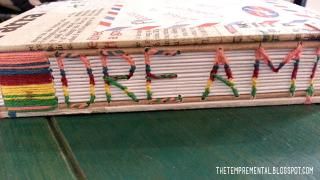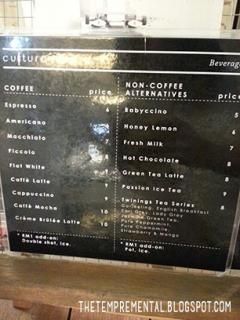 The drinks menu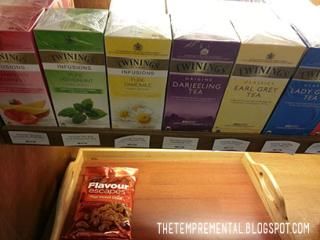 For 15.90, the homemade peanut butter consist of water, peanut butter, oil and sugar.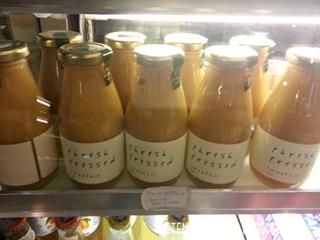 Freshly Pressed Smoothie (RM 9.00)
The popular dishes among Cultura's mixed group of customers that range from young people and working adults are the cafe's flavored toast, which comes in 9 flavors with the most popular being banana peanut butter and mushroom cheese, and the crème brulee latte.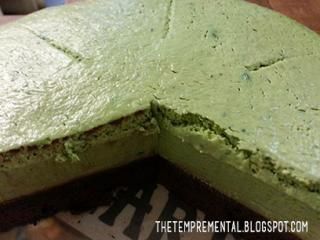 Matcha Mousse Cake (RM 13.00)
I strived away from the latter, not wanting to overload the caffeinated bloodstream with a stronger whiff of coffee and played it safe by ordering a cup of cappuccino and a plate of tofu cake.
The first sip of
Cappuccino (RM 9.00)
burst in flavors and with less frothed milk, the natural tang of the roasted DeGayo beans is allowed to shine. It left specks of velvetiness and delicateness when you swallow; you can't help but want seconds of it.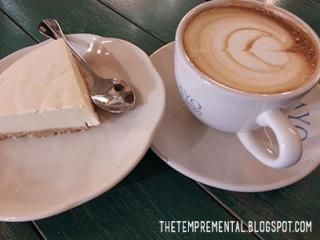 Cappuccino and Tofu Cake
Tofu Cake (RM 11.00)
consists of whipped tofu and has digestive biscuits as the crust.
The batter was beaten until it achieved a smooth consistency, which contributed to its softness on the throat and whetted the appetite. For someone who's sugar sensitive, it is one of the best cakes that I've sampled as it blended well with my taste buds. It was saccharine perfection; yes, it was sweet but not overly intense like its competitors on the market. The selling point was that there were no traces of cheese - or at least powerful hints of it.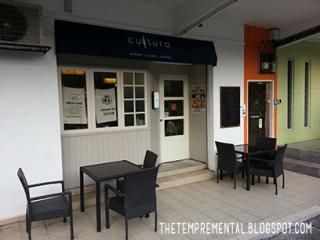 Name: Cultura Bakery
Address: 1, Lorong Kurau,
59100 Bangsar,
Kuala Lumpur
Tel: 011-12275938
Website:
http://www.culturabakery.com
Instagram:
http://instagram.com/culturabakery
Business Hours: Mon - Sun; 8 am to 6.30pm
For those who are unfamiliar with the Jalan Riong/Jalan Kurau area, attached herewith is a Google map for your reference:
For more information on Worthy Book, you can peruse the following links... or even purchase a booklet for yourself to use?
W:
www.worthybook.my
F:
www.facebook.com/worthybook
I:
www.instagram.com/worthybook
T:
www.twitter.com/worthybook_my
B:
www.worthybook.blogspot.com
Y:
www.youtube.com/user/WorthyBook
FnB Edition is available at all major bookstores (MPH, Popular, Times, Borders, Kinokuniya) and selected myNEWS.com outlets in KL and Selangor.