Mind you, my readers, this is actually three terse reviews squashed into one, to save time and elaboration.
It was an unplanned visit although we've been passing this café en-route to the grocery store; it took a curious food companion and a voracious me to pop in and have a peek at their dessert before we decided to have another round of lunch there. Yes. you've read that right, and it's not something that I'll do nowadays.
T-Bar may be smaller in size, but they have dedicated a part of their floor space for a serene seating area hidden from the passing crowd and decorated it with dim lights that are not only warm but comfortable. It can't accommodate that many diners at a given time, but it is a problem that the center management has helped to rectify by placing tables and long couches. The diners are able to place their order and inform the barista of their seating location before being given a table number. Once the order is ready to be delivered, the waiter will circle the food court and, upon spotting the table number, will pass it to the customer.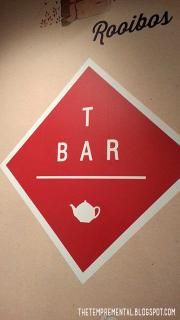 Muesli and Cappuccino (Small)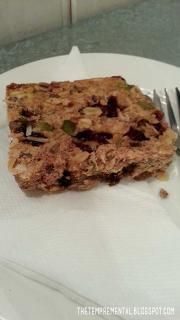 Muesli
contains among other ingredients dates, cranberries and oats.
Due to the fact that it resembles like a square granola bar, to realize that this leans heavily towards the sacchariferous is not a surprise. The dates introduces a chewiness as a flavor, but not to the point where it tasted rubbery.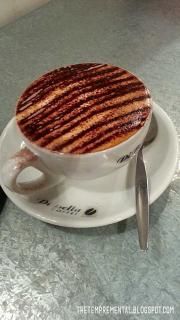 Cappuccino (Small)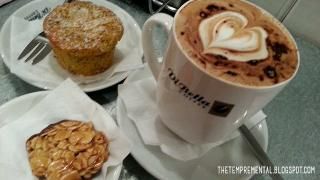 Almond Toffee, Orange and Poppy Seeds Muffin and Cappuccino (Medium)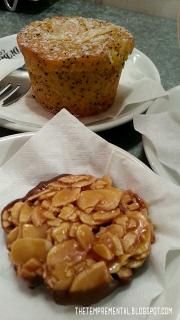 Orange and Poppy Seeds Muffin (top)
has icing sugar and almond slices as its topping.
It created an aromatic explosion of the orange fruit on the taste buds, and it was the only taste that I felt from the dish. The poppy sides were thrown in as a visual compliment to the appearance: an orange background with black spots. There was not a twinge of piquancy in the muffin, only saccharine.
Portion wise, it was perfect because it stood the potential of being an afternoon tea (even though I had it for lunch after lectures).
Almond Toffee (bottom)
has, well, almond flakes and a coating of chocolate caramel.
I actually ordered this with caution because my impression of toffee would include countless amounts of sugar boiled to the point of caramelization.
I was surprised when I took my first bite. The almonds had a neutral taste; it was neither roasted nor salted and the only saccharine flavor came from the chocolate toffee itself. I kept finding myself stealing bites after bites, much to the chagrin of my food companion.
This is certainly one of my must-haves when I'm back at T-Bar again.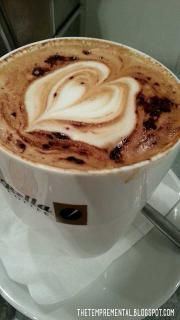 Cappuccino (Medium)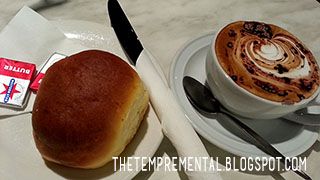 Scone and Cappuccino (Small)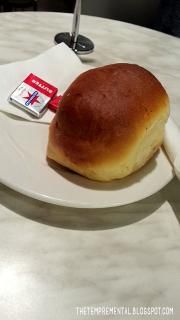 The scone, however, was a letdown. To me, scones aren't scones if I'm not greeted by the strong whiff of butter in the air.
It contained less butter than previously expected; there was unfortunately more piquancy than buttery fragrance, rendering the dish terribly salty. What caught me by surprise was it resembled more like buns than the regular scones. There, the ones with sneaky raisins/cranberries?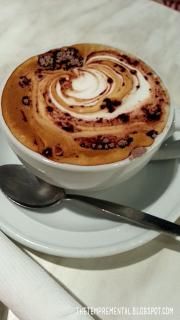 Cappuccino (Small)
What I like about this cafe, when it comes to their coffee, is that they have various coffee arts made by each barista for the differing sizes, as illustrated by the above pictures.
The cups of cappuccino that are sold here are perfumed with the caffeine extract - unless the ones I've had in a once-favorite haunt back home. In this case, the coffee here is heavier much to the delight of connoisseurs as it is a sign of quality. It did encourage me to slowly savor the drink instead of draining the cup in a matter of minutes and splitting the area.... and it also assisted to balance the sacchariferous and piquant aftertaste from the dishes sampled.
Fret not if you are a cannin fan instead.
T-Bar offers a wide variety of tea (such as Green Tea and Jasmine Tea), tea infusers and tea mugs as merchandises for sale towards the far left.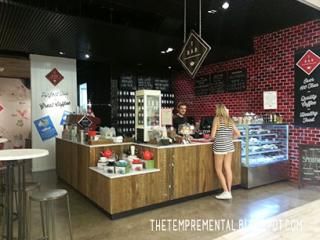 Seeing that my university campus is within walking distance of T-Bar and Rundle Place, chances are extremely high that I'll return to indulge in my caffeine cravings when it arises. I'll tell you why: the fact that I'm able to sit far inside and enjoy my cuppa away from the prying eyes of the crowd is rather comforting to me. =)
T Bar Tea Salon,
Shop 17, Rundle Place,
79-91 Rundle Mall
Adelaide SA, 5000
Phone: 08 8232 7700
Website:
www.tbar.com.au
Landmark: Towards your left, when you are walking to Coles