Residents who pass this area daily would know where this place is.
The water has covered the entire road of the area. Even the water pipe has almost been submerged. The long piece of steel that you see with the little blue thing is actually the top of the pipe.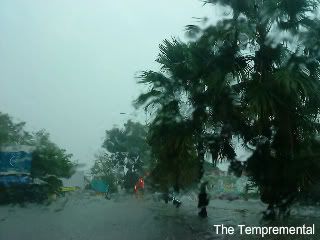 You can't quite see the depth of the water as the rain marred the picture, but let me tell you, it was so high that crossing it would mean risking the car engines.
A couple of cars did
just
that and made it out without "murdering" their engines, but there was a sole casualty: the Mercedes driver waited in the middle of the road with his emergency lights switched on while waiting for the tow truck to arrive.
We were both frightened when it was our turn. Mama Carrie was too worried about taking the risk and all I wanted was to head home. I didn't want to be stuck in a stationary car, worrying that the water level would steadily rise. I'd have taken it a shot, but but our car was a sedan. Not a 4-wheel drive like a (Ssangyong) Rexton or a (Suzuki) Vitara.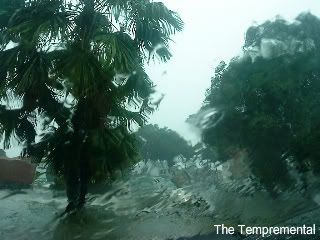 A Malay lady came from one of the cars waiting behind to investigate on the sudden traffic congestion. Mama Carrie suggested that she could perhaps ask some of the cars in the middle to reverse and to U-turn to clear the congestion.
It worked, but the two cars behind me thought it was still safe to drive pass. With a sigh in my heart, I slid out of the car (where there was less water, obviously) and knocked on the car door to plead with them. Intense fear must have been written all over my face because the lady behind me looked so worried. Slowly but surely, the ones with less bravery turned their backs on their intended destination and drove, searching for another access.
In all my years of living in this township, I have never seen or experienced a flash flood personally. It was such a scary experience that I don't see myself on that road during a heavy rain. Never!