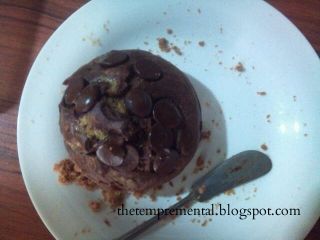 It was never intended to be a muffin; I just didn't have the actual cake mould.
Dry Ingredients:
2cup cake/pastry flour
1 Tbsp Van Houten chocolate powder
1 tsp baking powder
1 tsp baking soda
1/2 tsp salt
1 Tbsp sugar
Wet Ingredients:
2 eggs, room temperature
A splash of vanilla extract
1/4 cup olive oil
3 Tbsp butter, room temperature
1 cup milk
3 bananas, roughly mashed
Additional Ingredients:
1/4 cup pumpkin seeds
Chocolate chips
1) In one bowl, sift all the dry ingredients and leave aside.
2) In another bowl, add vanilla and beat eggs with sugar, oil and butter until smooth.
3) Fold in 1/3 of the sifted mixture and 1/3 milk, and alternate between the two, before finally adding the bananas and the pumpkin seeds.
4) Pour the wet mixture into the oiled mould of your choice, and top it off with chocolate chips.
5) Bake for 45 minutes at 180C.