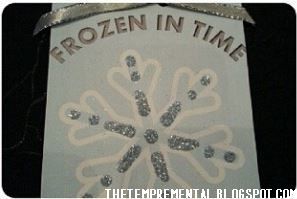 Not only was I repeatedly rubbing my eyes and sneezing on Thursday morning, I felt the side effects of the sleep deprivation peaking once more. Even Mama Carrie was surprised and thought that either I slept late or pulled an all-nighter; none of it was true since I had 9 straight hours of perfect rest.
It frightened me when my allergy attack refused to subside by that afternoon. Remembering my previous bouts, I locked myself in the stuffy room without any air conditioner or fan switched on while I sipped a warm mixture of saffron and chrysanthemum tea to force the fever and nasal congestion to break. Seeing that the event coincided with my intention to have my hair shortened, Mama Carrie dragged me to the hairdresser in this dire state to have the hair length trimmed. I rebelled; I asked for it to be shortened instead. Even before she laid the final cut, my subconscious was aware that I could easily slip into the hotel ballroom without the slightest recognition if I wanted to.
But yeah, thank God my situation recovered overnight although I panicked slightly when I began to sneeze again after breakfast. It was nothing bad; just me adjusting to the unusual amount of dust being collecting in a burning weather.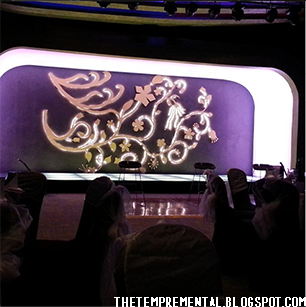 Come to think of it, I shouldn't have told Mama Carrie to drop me off at Empire Hotel an hour earlier had I known that I'd be like a wanderer, especially since it's really close to my residence. Not within walking distance, but certainly within the suburb. Although it was casually mentioned that the doors would be opened at 6.30pm, it wasn't until 7pm that more people arrived, socializing and exchanging pictures with their peers and, for those who were lucky, their lecturers.
To safeguard and protect the identity of myself and that of my friends, I will not post our pictures up. However, if you're friends with me on Facebook or following me on Instagram, I can bet a dollar that you've already seen those photographs of us all dolled up in our dresses and tuxedos.
As expected, half of my friends who turned up for prom night were surprised to see me because they have never seen me in smart formal (last semester's cross dressing attire as a MAS flight stewardess and my attire as the Crown attorney for "Injustice Served" are not counted) around campus, especially in a figure-hugging gold dress and a pair of pearl earrings. I didn't care much about adorning myself with elegance and opted for an au naturel look instead.
It wasn't until 7.30pm that those present were allowed into the ballroom to choose their seats and continue the mingling. A fellow acquaintance, a fellow journalist in Student Voice whom I ran into near the elevators, was wondering about the lengthy delay but me being me, I understood that there had to be unforeseen circumstances for the entire event to begin at a later timing. Shortly before he arrived, I spoke to someone (a former History classmate of mine) behind the planning team in regards to this. He said that it's not just the well-known MYT that's a hindrance.
Poor Chester and William. They looked ravished by the time we entered the ballroom.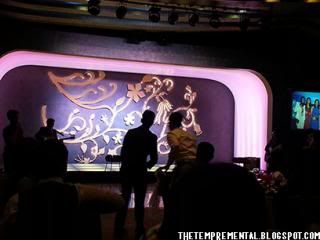 When we were given the cue to head to the dining area, the hunger that William and Husky were suffering from pushed them to rush forward. The table that we chose allowed all of us to reach the queue the earliest but before I was even aware of it, Ammar was behind me and he wasn't seated at the same table as us. Knowing Husky and his voracious appetite, he must have rushed from campus after his final paper and did not have time to catch a quick bite before prom.
Something almost happened when I headed out the second time to catch a plate of mixed sliced fruits. I overheard Kyle repeatedly muttering under his breath that he should've worn a tie as he felt "naked without it". I honestly complimented him that he looked fine with or without the minor addition, but he misinterpreted it and pulled my leg with a "Just fine?" answer. When I heard that, I spun around and walked towards him with a squint, almost confronting him without realizing that our Writer's Craft lecturer was watching our interaction with a smirk. (I'm sorry, Ms. Minor, that's how Kyle and I socialize with each other, unfortunately.)
In class, we barely communicate with each other but out of class and during the rare times that we ran into each other, we really behave like disgruntled siblings, haha.
The dinner was alright; I somehow knew what dishes to choose from because while we were eating, another friend whined that the lemon fish was overcooked and tasted rubbery and the pasta I chose was undercooked. I saw it coming, to say the least because Mama Carrie already warned me that the kitchen staffs will be doing the cooking in bulk and in a rush, leading to certain dishes not properly braised.
Another round of singing presentations by LIVE Club succeeded the dinner. Once the emcees ensured that all the attendees were seated, they introduced the performance by Fausty, Su Ann and another lass singing their rendition of "Moves like Jagger" with Joseph on the guitar.
If there was something I've noticed here, it was the sudden plummeting of confidence. Fausty and Su Ann were singing perfectly until "the lass" roared the notes.
The three of us saw the fear in their faces even in the darkness when this happened.
The rendition of an old classic by Charlene and Lakshmi was beyond amazing. I can only presume that it's a classic because I've not heard of it (of the melody) before. The opposite table gave a standing ovation when they were finished.
Wenmay's dance performance was a stunner. No one around me was aware of this, but I felt something stirred in me at her rumba. I can't explain why; maybe I was able to relate to the song, the storyline, a past experience or what, I have no idea. It reminded me of something, that I am truly certain. I wanted to turn away, to avoid the emotions that I faced, but I willed myself to enjoy the dance and the aura it radiated.... like a young star-struck couple in love battling one obstacle after another through their undying love and eventually returning to each other's embrace.
I know I am missing out a couple of details, but that's as far as I can remember.
Although prom night ended at around 11pm, I left earlier because I had an early morning ahead of me and it was rather unsafe for me to be heading home alone either. In addition to the transport issue, there was an underlying reason for my quick departure.