Spending the entire morning on our feet somewhere else wasn't something that we expected and not wanting to brew coffee with a plate of freshly baked cake, we set our sights for something light yet within close distance from the residence. After perusing the book of vouchers, we decided to head over on a rainy Saturday for a takeaway snack... hence the lack of beauty in the presentation.
The menu - plastered to the wall
The shop - up close
I circled the Lower Ground Floor of Main Place (in USJ 21) and had no idea where Paratha Crispy Popiah was; I was still flummoxed even after asking the information counter for directions. It wasn't until a kind sales assistant from an organic shop pointed me in the correct direction of the cafe: I had walked past it twice without knowing it! I guess I was expecting it to be in a retail lot instead.
Since there was only about an hour or two before dinner, I only ordered a plate of tauhu sumbat (= stuffed tofu) and received the second serving for free as a result of utilizing the voucher; both to be sampled upon in the comfort of home.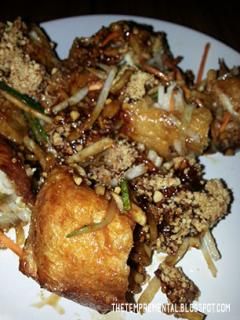 What exactly is tauhu sumbat, you may ask. It is a dish that consists of tau fu pok (= tofu that has been expanded and deep-fried in a wok of oil) that is stuffed with loads of shredded carrots, cucumber and sengkuang before being drizzled with prawn paste, a homemade salty sauce and crushed peanuts.
The heat that the tau fu pok was exposed to assisted in it maintaining a slight crunch when biting into it. I was expecting to feel the natural saccharine of the vegetable to envelop my taste buds, but what I received in return was an abrupt contact with the piquancy and sugar of the dressing. Unfortunately, it was far more than what we are able to accept. It's with pity that the combination of sugary prawn paste drowned and overpowered the overall flavor of the dish because it can actually be introduced as a healthy snack.
On the bright side, it didn't contain much oil as I feared. It's something I tend to look for whenever I'm eating takeaway food at home because it permits me to gage if the chef/cook has used more than required amount of oil in the dishes.
It might be difficult to find the stall for a newcomer, but if you're a frequent patron to Main Place like Carol, I'm sure locating Paratha Crispy Popiah will be easier. With that being said, however, I really hope that the management can increase the size of the signage a little bigger or maybe have a double-sided menu stand at the strategic spot.
Now, for the directions: from the escalator, make a sudden left turn (like making a U-turn). You'll notice that Gelato Fruity is on your left. Walk further and you'll notice Latte Me and Porridge Time. In front of you would be Oyster King and Kaki Lima. Next to Porridge Time would be Paratha Crispy Popiah, fronting Ookii Ki.
Paratha Crispy Popiah,
LK - 02,
Lower Ground Floor,
Main Place Shopping Centre,
Jalan USJ 21/10,
Persiaran Kewajipan,
47630 Subang Jaya,
Selangor
For more information on Worthy Book, you can peruse the following links... or even purchase a booklet for yourself to use?
W:
www.worthybook.my
F:
www.facebook.com/worthybook
I:
www.instagram.com/worthybook
T:
www.twitter.com/worthybook_my
B:
www.worthybook.blogspot.com
Y:
www.youtube.com/user/WorthyBook
FnB Edition is available at all major bookstores (MPH, Popular, Times, Borders, Kinokuniya) and selected myNEWS.com outlets in KL and Selangor.