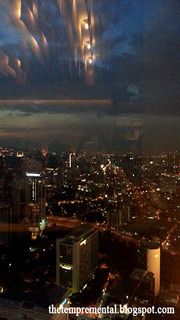 I dreamt that I drove to someone's house and landed in their driveway. It was occupied by a Chinese family - judging from the happiness sticker that they plastered on the wooden door. The occupants looked familiar, but I couldn't place where I previously saw or met them.
Later that week, when it was time for exams, I searched for the examination hall hosting the paper that I was about to sit. The security guard didn't search my bag and demand that I send it through something that resembled the airport scanner because I slid under the radar. Once inside, I perused the noticeboard for my name, but it wasn't listed there. A name similar to mine was, but either it belonged to someone else or it was a spelling mistake. I didn't want to take my chances and commit identity fraud.
In reality, I've been visiting a particular family - acquainted to my Mom since when childhood - whenever I'm back in town. A quick reference check online indicated that the inability to find my seat for an exam meant that I want to prove myself, but am unsure how to. It's like being restrained against your will.
In another dream, I fled from the floors of SJMC and found myself head to head with someone at the entrance gate. Her eyes burnt with fury and demanded that I leave the scene immediately. An adult with a younger fellow entered the seaside building on a breezy yet sunny afternoon. It was evident that they were mother and child. When I saw them, I ran in the opposite direction. The child saw me - her father - and called for him. My heart wanted to embrace her, but my brain said to run. I was cornered by walls at every turn while I tried to rid the child off my trail. We ultimately caught up with each other at the row of elevators. Her voice was enough to melt my stone cold heart.
In reality, the aforementioned person in the hospital is someone whom I've not spoken in months. In reality, we've drifted away due to unresolved matters and the distance of time. Maybe she's thinking of me or still annoyed with me, I don't want to know.
The change of gender in the dream reminded me of something that an acquaintance posted on Facebook a while back… it went along the lines of not being able to be the doting parent to a beautiful and treasured child. Could my dream be a signal that the father in the dream is the adult version of me? Or just the way of an exhausted yet sleep-deprived subconscious?