The following dream must be related to the discovery that happened last Saturday; after being suddenly reminded of Jeremy, I went to Sunset Mass, really hoping to seek some answers and some solace from the whirling mind but ended up running into Stephanie (or so I thought. I still remember her face, but I'm not 100% sure if it was her).
Bleh, I returned home in a deeper wonder than ever.
Charlie will attest to that.
Back to business.
I dreamed that he had called me out for a drink and while I was in my room getting ready, my Mom had allowed him in and asked him to be comfortable and wait for a second.
He brought me to this drinking place, which resembles something like the revolving restaurant at KL Tower in real life. There were benches of three in each area (more to encourage socialization, methinks) and a long list of alcoholic drinks.
Socialize, I did. He was rather uncomfortable but kept a close eye in case that I'm being pounced on by some suspicious crook.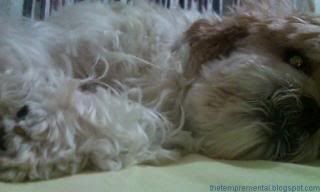 Shortly before heading down to an acquaintance's hair salon, I had a field time being surrounded by friendly puppies (yet again!) One of 'em knocked down an empty waste paper basket and curled up inside it, comfortably slept.
While my Mom spoke to the acquaintance over some final decisions, I collapsed on the couch at the seating area, waited patiently in silence.