The motzies (mosquitoes) don't quite bother me as much as the spine-chilling cockroaches, but both can be quite a nuisance.
It is tough to sleep when the motzie is flying around you, waiting to pounce on the unsuspecting you and drinking your blood. However, when compared to the both residences that I have lived in, the first one didn't have much motzies around but the second one definitely had more of them, especially during their feeding hours (of 7am and 7pm?).
I have no idea why, but cockroaches had infested both houses, emerging in places where you won't expect to find them. Nobody said that cockroaches will appear in the wardrobe, nibbling on clothes or even in the bedroom, feeling like they own the place....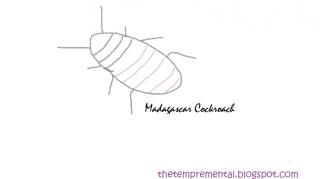 Not exactly the image I wanted, but you do get the drift, right?
It'd always use me as a bridge to get across the room in the wee of the hours of the night, never hesitating to crawl on me and leaving me wide awake for at least an hour after that. Teochew Mama and Papa Carrie seemed to have been spared.