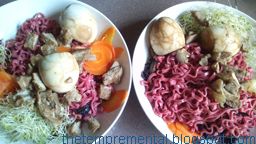 Seeing that I lolled around the house and was more than unwilling to head out to pack the 云吞麵 (Chinese wantan mee), I slaved behind the cooker hob, slicing and chopping and boiling all the ingredients into what I hope is a somewhat-nutritious and sumptuous lunch for the both of us.
For today's lunch, you will need the following:-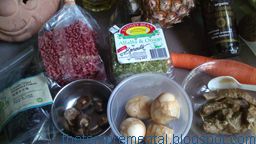 1 Tbsp sesame oil
1 Tbsp light soy sauce
A dash of pepper
Alfafa sprouts
6 pieces of pre-cooked meat
2 boiled eggs each
1 carrot
4 mushroom, sliced
Some seaweed
Noodles
Slice the carrot in a pot of water, boil for 1 minute or when it turns a bright orange and set aside to cool.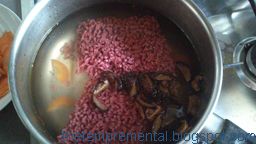 Boil the mushrooms in the same pot of water for 1 minute, or until soft and strain.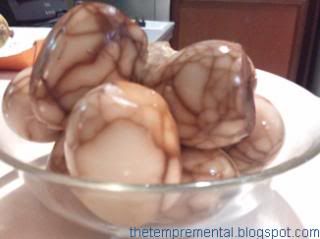 Steam the meat and eggs in a container. (You don't necessarily need to use 茶叶蛋 - Pinyin: cha ye dan, English: tea egg; the normal ones are just as fine.)
Toss the boiled noodles together with the sauce and oil to allow the seasoning to coat it.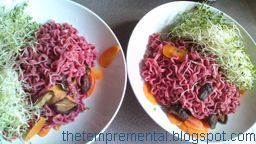 Serve the cooked carrot, mushrooms, meat and eggs on top of the noodles, and sprinkle the sprouts and seaweed on top.