Now that I'm done with my exams, I can record the dream that I had a couple of days before the Administrative Law exam. The dream obviously contained more information, but because I was drifting in and out of consciousness, I could only remember certain bits of it.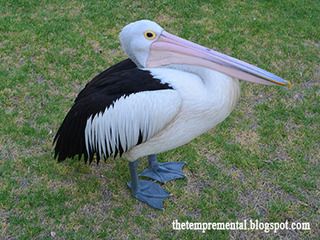 I dreamt that my friend - the only identity that I have is that it is a guy, not someone that I know in Adelaide or Subang - and I were at a riverbank, doing our own thing, as part of large entourage of friends. It could've been a picnic or s weekend barbecue. We were in the midst of a banter and I was squinting to avoid the sun's nasty glare when my peripheral vision spotted 6 Australian pelicans (like the one in the attached photograph) with full bills in sight swimming towards us.
A check with the dream bible indicated a twinge of selfless and charity blended with a hint of disappointment. Since I had this dream before admin law, could this possibly mean that I'm in for some heartbreaks? Or, is it not related to academics? I guess it is also safe to assume that the arrival of pelicans was a self-directed question as to how I'm taking care of myself - and whether I'm spending enough time on me. If you ask me, it makes sense because I'm frazzled. To have dealt with so many unexpected matters only increased the amount of pressure I was under - to the point where I barely slept. Maybe it's the subconscious pleading for me to improve on my well-being.
I look great, but I feel trashy.