I don't know about you, but I'm relieved and glad that Chinese New Year is finally over. As mentioned before, I've never looked forward to the whole celebration of fireworks and firecrackers. I can deal with the fireworks as it's not annoying and irritating to the ears, but firecrackers can really sent me boiling with fury, especially if it's done at night when everyone's asleep or trying to visit Dreamland for a brief trip.
When I heard an unusually loud crackling noise, I thought a house had been shot down by a Black Hawk but I knew that it was something else when I saw the smoke. No, it was not a fire or the work of some electrical wires waiting to burn the entire house. It was the result of someone putting a show on firecrackers. Of course I was a little terrified because that was my first time hearing it and I understand that the older generations have been using it but according to Mama Carrie, it wasn't as loud back then.
Either way, I'd prefer it to be done in broad daylight rather than at night.
While most people gathered at nearby ponds to throw mandarin oranges with their personal details hoping to look for the one true love (yes, there is such tradition for the 15th day, aptly known as Chap Goh Mei) or setting off a display of fireworks to mark the end of Chinese New Year, I stayed at home and attempted on yet another recipe from scratch.
You see, I was in the mood to whip up something. =D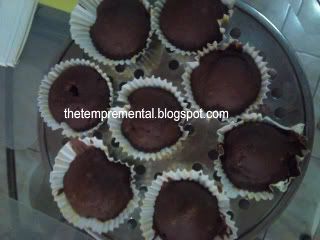 Serves 8.
Dry Ingredients
100g organic high protein flour
3 tsp
2 tbsp organic brown sugar
1 tbsp unsweetened chocolate powder
1 tsp baking soda
1 1/2 tsp organic baking powder
Wet Ingredients
5 ml vanilla extract
1 cup organic soy or goat milk
1 tbsp unsweetened natural yogurt
1 drop chocolate essence/extract
Directions
1) Preheat oven at 160C.
2) Line a 12
pc
hole muffin tray with 8
muffin
paper cases. (You can just oil the tray and omit the cases if you wish.)
3) Combine the wet ingredients into a bowl.
4) In another bowl, sift the dry ingredients to remove any lumps.
5) Gradually add the sifted dry ingredients into the wet ingredients and whisk until creamy and smooth.
6) Pour mixture into the tray, only going halfway.
7) Bake at 160C for 10 - 15 mins on the bottom tray or until fully cooked.
Best served warm with a cup of coffee or a splat of whipping cream on top.
For a spongier and smoother texture, add 20g of butter and 1 egg into the wet ingredients and cream the mixture until smooth before adding the dry ingredients. Sugar can be substituted with 5 mashed bananas.