Note: this is a scheduled post. By the time it is published, I'm hiking the routes of Mama Carrie's favorite hill with a suspicious eye for cobras and pythons.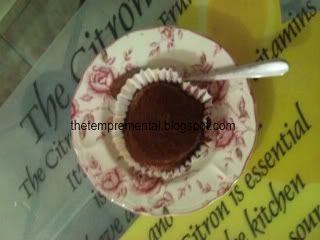 Dry Ingredients
100g organic high-protein flour
50g organic maize/corn flour
1 tsp baking soda
1 tsp baking powder
2 tbsp organic sifted muscovado (dark brown) sugar
Wet Ingredients
10g unsalted butter
50g cream cheese
5ml vanilla extract/essence
1 cup organic soy/goat milk
Directions
In a mixing bowl, sift the dry ingredients with the exception of sugar to remove any lumps.
Preheat oven at 160C
Line a 12 hole muffin tray with 8 paper cases.
Cream butter, cheese and sifted sugar until combined.
Gradually mix the wet and dry ingredients until a semi-dry consistency has been formed. Add more flour if the consistency is too wet, and a little milk if it is too dry.
Pour mixture into the tray and smooth the surface with a wet flat spatula.
Bake for 15 minutes.
Tips
Sprinkle icing sugar to decorate.
Can be eaten for breakfast, coffee break or afternoon tea.