Day 7
For the second time in this week, as the sun brightened the hotel room with its radiance, I woke up shortly before 8 am with puffy eyes and only because Mama Carrie chased me out of bed, nudging me to rise and shine. She said that it was of no use to loll in bed any longer and should haul my butt up to take full advantage of the day.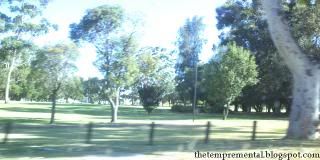 Victoria Park
Well, what do you expect? Even as I'm penning this post, she remarked that I looked incredibly exhausted and should catch some rest while doing my facial mask. You see, it was only at 1 am that I was able to fall asleep amidst the quiet sobs and that was because I forced myself to do so, knowing that there was a day of exploration ahead of us. I needed to or I'll be looking and feeling like a possessed zombie. As a matter of fact, I feel like a walking panda at this current moment with the permanent green shadows under my eyes. Throw in some black eye-shadow, and I'll really be one, much to the chagrin of my loved ones.
Anyway, right after breakfast, we threw on our most comfortable footwear and took the short walk to the nearby bus stop in Barrack Street where we boarded Bus No. 55, heading to Morley Bus Station at the advice of the hotel receptionist. When we arrived at our destination, it was an hour later and Centro Galleria (formerly known as Morley Galleria) was within a five-minute walking distance.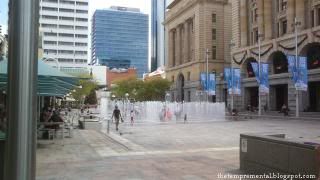 Water Labyrinth, Forrest Chase
We browsed through the entire building, looking for the kiosk selling that premium New Zealand ice-cream brand to no avail. Surrendering to fate, we landed in Cafe Galleria, where we shared a Steak and Mushroom Pie and a Flat White before heading over to Target since the store was offering the year-end sale.
The Pie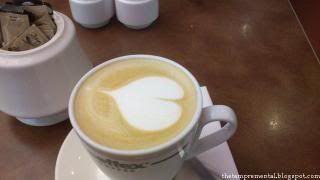 The Coffee
There were such good bargains around the gallery that we ended up purchasing more than we should and struggled to bring them back to the hotel as even though the bus stop was next to Murray Street (or rather in Forest Chase, to be exact), there was still the five-minute walk to tackle.
Not to mention, Mama Carrie adamantly insisted to buy that bulky item from David Jones.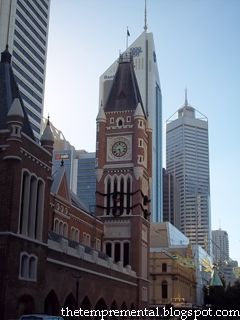 Town Hall, Hay Street
I was surprisingly able to lug the items and sustain even with the exhaustion until we arrived in our hotel room, where my legs immediately gave way and I collapsed on the floor. I stayed seated there until I recovered some of the lost energy to drag myself to catch a refreshing warm shower. Man, I can understand if I've been shopping the whole day back home because Kuala Lumpur's humidity can easily zap the energy out of anyone but here? Here in Western Australia, where the weather is much cooler and windier?! It's either the lack of sleep (again) or the realization that we've been on our paws the whole day.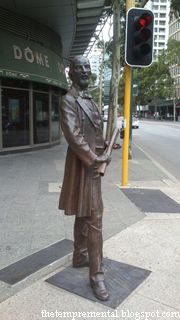 Mr. John Roe, the first Surveyor-General for Western Australia, who chose the current locations for Fremantle and Perth's CBD
I was pretty much glued to the mattress until the next morning, only leaving whenever necessary and unavoidable.
Wombat Lodge, Barrack Street
This shop has loads of goodies that are worth buying home. Mama Carrie bought my tote bag from here. ^_^