Since these last couple of days has been stressful for me, I shall let the post speak for itself.
Day 13
Smoke coated the morning air as we dashed across Hay Street from our hotel and up the drive to St. Mary's Cathedral to catch the 9.30 am Mass. Methinks that the wind might have blown the smoke from the Queensland bushfires westward hence the hazy-looking sky, which I didn't know will leave the temperature hovering around 39 degrees Celsius the next day.
I still can't believe that we were tardy even though we rose rather early, way before the alarm clock was given an opportunity to yell. Sigh, talk about rushing up on something at that very last minute. Anyway, the plan that we agreed upon the night before was to head straight down to Perth's Home Grown to catch some fresh local produce but because we rushed for the morning Mass, we returned to the hotel room to allow me some time to finish the leftover breakfast before continuing on with the journey.
Seating area for weary feet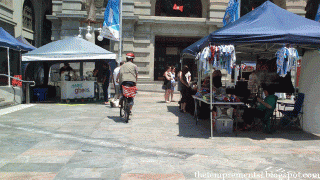 Some of the stalls
What's your interpretation of this picture?
What is Perth's Home Grown, you may ask. It is the congregation of many stalls selling organic produce, fruits and food ranging from paella to ice popsicles. Because it was their first week after Christmas, there were fewer stalls and crowd hovering there. Don't worry, as the weeks pass, there will be more stalls and you'll start seeing more people thronging to Forrest Chase.
The first stop was the fruits section, where Mama Carrie bought lemons, avocados and plums (all of which she intended to and did bring home), followed by some thirst quencher in the form of a kiwi cucumber ice popsicles. I almost headed over to the booth selling liquid nitrogen ice cream but I was more anxious of the sweetness than of the method used. The cardboard sign "organic" hanging down from the tarpaulin layer of the stand caught our eyes and we headed there instead of leaving off.
The Popsicle Stall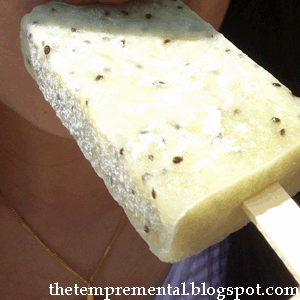 Kiwi Cucumber Ice Popsicle
Organic Hot Dog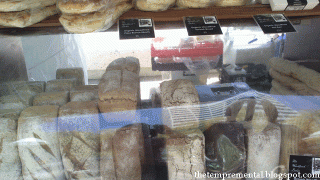 Organic Bread Loaves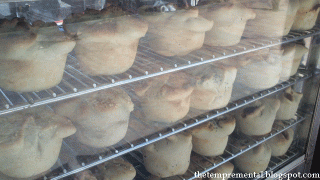 Organic Pies
The organic beef pie that we bought was not chewy and rubbery as the one we ate at Cannington and contained way less salt than I expected. Mama Carrie paid for the organic free range chicken and bacon pie as well, but I can't remember the taste, unfortunately.
I was rushing up on the previous post when she was hand-feeding me with the pie.
The rest of the day was actually spent cooped in the chill of the hotel room and to the final match of the male's singles between Australia's Lleyton Hewitt and Switzerland's Roger Federer. Just because I don't watch tennis regularly doesn't mean that I can't enjoy it occasionally, right?