I'm pounding my head to Flyleaf's Dear My Closest Friend while penning this post on days three and four of my vacation in Western Australia. Yeah, I know that it is an emotional and sad song that tugs at one's heart. In fact, my eyes went all glassy the first time I listened to it but the thing is, that's how I'm feeling now: sad and a little homesick.
Sigh, I wonder how I'm going to cope when I'm heading abroad to further my studies if I can't sail through this.
I've to apologize if it sounds like I'm crapping away. I'm writing off memory here and it's quite difficult to remember every little detail when you've a companion who has an overworked mind.
Day 3
The last couple of days were hectic, like really hectic and stressful partly because I treaded around the city in the wrong footwear. I'd have brought my pair of sport shoes instead of the heeled sandals and avoid suffering from aching paws if I knew that other parishioners were wearing athletic shoes to attend Mass. When Mama Carrie whined that she needed to catch something edible after that since we didn't eat breakfast, I remembered passing by Croissant Express en-route to the grocery store that we went to on the first day and suggested that we sample their sandwich with cappuccino.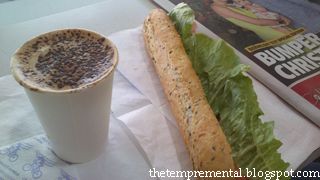 Sandwich and coffee at Croissant Express, Hay Street
Man, the type of sandwich that Mama Carrie ordered was great! It was au natural with no sauce and contained less salt than the ones I'm buying back home. Man, if my Writer's Craft lecturer were to read this post, I think I'm going to get a sweet lecture from her for not being descriptive enough but I doubt I have a choice here. It's been many days since we visited Croissant Express and I doubt if the unique taste is still lingering on my taste buds.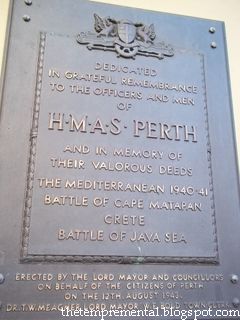 A monument commemorating the lives lost during the battles of World War II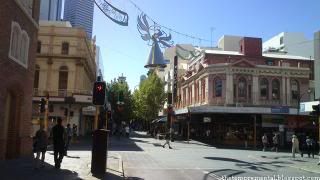 Entrance to Murray Street Mall
After ensuring that we were satisfied by the meal, we happily walked down the street to Murray St. Mall where there was a Boxing Day sale offered by most of the retail outlets there. I'll have to say that the Christmas discounts offered here are more genuine and even though I'd have loved to buy more than the goodies mentioned on Facebook, I couldn't because everything seemed terribly pricey after conversion. =(
We took the Red CAT (Central Area Transit) to Forrest Place where we switched buses and sat on the Yellow CAT, heading for Harbor Town in search for the nearby Harvey Norman at City West Shopping Centre. I'll tell you why; Mama Carrie was toying with the idea of purchasing a coffee machine here and bringing it back home but couldn't because of the ludicrous weight. There's no way we can check it in or hand-carry it on flight without incurring some type of cost (either a fine or the burdening of the shoulder muscles).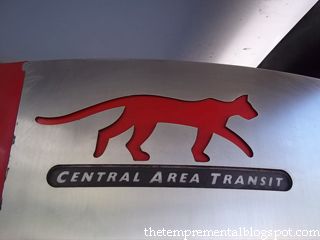 One of the four free bus plying the city routes
The return trip home was next to horrendous. Because the Yellow CAT was sardine-packed with the loads of shoppers from Harbor Town, I was sandwiched in between passengers of various ethnicity from Asia in the bus and swear that I heard a range of Cantonese, Mandarin, Korean, Indonesian and Malay being thrown around. Exhaustion washed over me while we rode in the Red CAT back to the hotel and what we usually eat for breakfast, we had it again for dinner: a spread of softened organic butter, feta cheese and avocados on the sliced sourdough bread from Woolworths and a mug of oats with skim milk.
Gosh, I'm aware that there's a long period of school holiday back home but we weren't expecting to see so many Malaysians here, especially in the hotel where we're staying at. I should've seen it coming when I saw so many red passports and overheard conversations in Malay at the Customs. Oh, wait; I can't believe how affordable the edible goods are in the Australian dollar. The Milk Arrowroot that I've loved would have set me back by about RM9 in Cold Storage, but here, it was only AUD$2 (RM6).
Day 4
Seeing that we needed to confess our sins before the Sunset Mass, there wasn't much we could do but take the slow ride down to Swan River, which surprisingly was about a two-minute walk away from the hotel. =) Even before we could reach the place, I felt the breeze messing with my ponytail and engulfing me with.... a weird feeling that has since stuck and screwed with my emotions.
It happens whenever I'm in a windy area.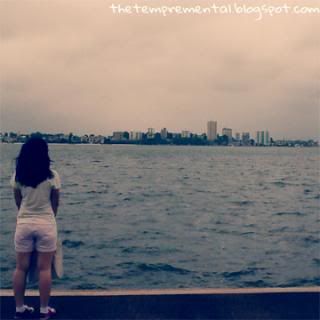 Overlooking the Swan River
I was a little envious that Western Australians were lucky to have such a humungous lawn to exercise and play with their dogs by the river. Yes, you heard that right; the locals here are allowed to bring their lovely pets only if they clean up after them, maintaining the beauty of Langley Park. There's no way in the world you can have this in Kuala Lumpur. The park near my childhood residence can't even beat this as there's a high-tension electrical poles and the countless parking bays for the specialists working at Sime Darby Hospital (formerly known as SJMC).
I'll let the photographs that Mama Carrie and I captured do the talking since pictures speak a thousand words.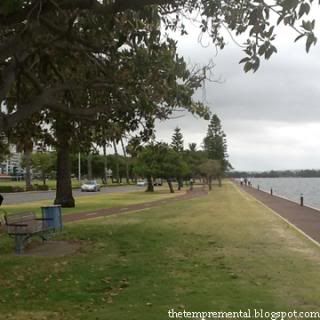 Langley Park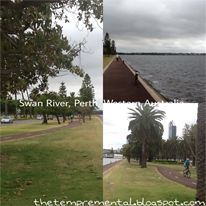 A collage of pictures of Langley Park and Swan River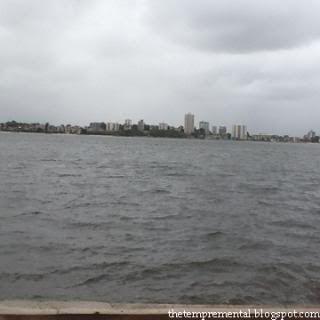 The lovely river view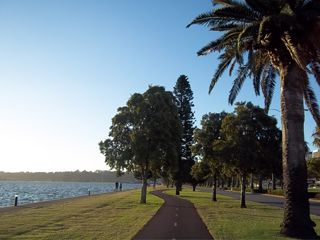 The cycling and walking path at Swan River, surrounded by the river view and trees
Sunset view
Sunset view
More pictures can be viewed at The Tempremental's Perth, Western Australia album.