I'm assuming that this is Norwood Town Hall?
It's not very often that I'm at the movies, but seeing that the tickets were given in exchange for the volunteer duty, why not use it instead of letting it go to waste? Not to mention, I needed something to momentarily distract myself from the exam results and let the brain breathe after an intense exam schedule.
I was more than comfortable to watch "Me Before You" alone (if I had to) because I could steal some time before or after the movie to shop for souvenirs/birthday gifts. You'd be surprised to hear this, but I toyed with the idea of asking my good friend to come along - seeing that it was a stressful semester for him as well.
To my surprise, he was keen on it.
The first thing that I realized when I landed in Norwood was that it radiated the same atmosphere as Fremantle, Western Australia. For those who haven't visited Fremantle, it doesn't have a centralised shopping mall - where the shops, eateries and cinema are housed in one building - either. They were all scattered around the place within walking distance from each other.
Although it's been almost a decade since I entered a cinema (which was in TGV One Utama to watch "Dark Shadows" with my childhood bestie), I'll have to admit that the structure and layout are different. In Hoyts, the seats were clean and comfortable with ample leg room for us (unlike TGV, where I almost stepped over my bestie to reach to my seat due to the squashed space).
Truth be told, exiting the hall was easier than I thought. It was in the same direction that we entered. I didn't tell my good friend this, but I was half-drained emotionally from watching the movie. One of the moviegoers who waited at the traffic lights to cross the road was telling her companion that "Me Before You" totally broke her heart.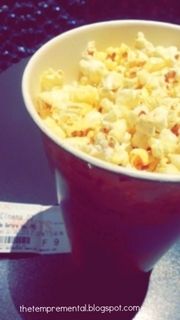 A small bowl of popcorn from Hoyts - yet the portion was too large for me, lol.
Speaking of the movie, there were a lot of scenes that made the fellow audience members, especially the older generations, laughed out loud. There were a handful of college or high school students as well. I can't describe much without giving the juicy parts away, but just enough for you to gauge the flow of the storyline.
I liked the part where the movie started with the scene of William Traynor (Will) leaving his then-girlfriend Alicia's apartment and rushing off while being on the phone. The scene faded out as soon as the motorbike approached Will, much to Will's horror. This actually laid the foundation for a climax towards the end of the movie.
It was good for those (like myself and my good friend) who haven't read the book or watched the trailer.
What left a memorable impact on me was when Will made faces at Louisa Clark (Lou) and his sarcastic reply to his mother's (Mrs. Traynor) words: "[y]ou don't have to talk across me, Mother. My brain isn't paralyzed - yet." I loved it when she stood up to Will's sarcastic interaction with her (it sure as hell reminded me of my interaction with one of my college friends). For my good friend, it was the scene where Lou arrives at Will's castle to meet with Mrs. Traynor. Her attire for the interview reminded him of something from David Jones. (It's true - I saw a similar coat in their ladies' department last week.)
When they played Canon in D for Alicia's wedding to Will's best friend, Rupert, I had to pinch my nose bridge to stop the tears from running down my cheeks. It's not that the scene was emotional; it's just the memories associated with the classical tune. Plus, it sure didn't help that the actor who played Will (Sam Claflin) was a doppelgänger of someone acquainted from certain angles. It was additionally heartwarming to see Will smiling in Lou's presence and the shaky relationship between them becoming much more stable with warmth.
I'll leave the pen here because the scenes after this really stabbed me with the emotions and it'd be a dead giveaway to the ending. I could feel my eyes swimming with tears and had to bite my tongue to keep myself in check. I'm not too sure what I saw from my peripheral vision, but chances are that my good friend was swiping at his eyes during certain scenes too.
Thank God the theatre was dimly lit as the credits were rolling. I didn't want him to see my shiny eyes. To be honest, I was slightly worried that the atmosphere would be awkward for me when we decided between "Me Before You" and "Finding Dory". I can be quite emotional when it comes to sad moments in the movie, but I'm relieved that he enjoyed it.
We decided to catch a late lunch after the movie, but eventually settled for Nordburger as we were unfamiliar with other eateries in Norwood. I actually love the internal structure of the cafe - it's devoid of paintings yet it has the warm atmosphere attached to it. Like they always say, a place is always livelier when you're in the right company of friends. *winks*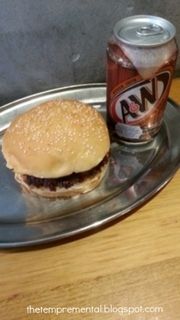 Junior Burger with a can of A&W Root Beer
I know it's an unhealthy dish, but it has done a good job of evoking the childhood memories of being brought to their branch opposite AmCorp Mall for waffles and Tuesday's Coney Dogs. And now it's time to spend the next couple of days worrying the life out of me about the grades. Oh, please, Lord, let me pass all of my courses in one piece.