With God's blessings, I've survived the intensity of 1st semester, but not unscathed. Everything seems to rub me off in the wrong way to the point where I'm losing patience. It'd be better if I date my books instead of inadvertently snapping and offending anyone who happens to be in the wrong place at the wrong time, if you ask me. That way, any angst that I harbor will be directed to the poor textbook instead of battery to humans, if you ask me. I don't want to be held liable under Division 7, S 20 of
Criminal Law Consolidation Act
. If I remember correctly, it can't be argued that the offender didn't intend to commit assault on the victim.
I've caught wind that there's going to be a birthday surprise for me - and in all honesty, I'm unsure whether to be enthusiastic or frightened by it. Those closest to me are aware that I'm easily startled by surprises, especially when it is unexpected. I don't know where and when it'll be held because from what my sister said, it's being planned in secret and she wants to bring along the good friend to pick my birthday present. It's not that I don't trust their tastes; it's just the secrecy is leaving me positively anxious.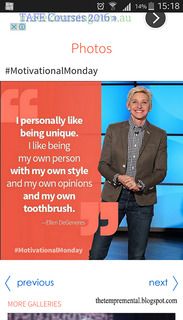 Credits to
Ellen Tube
for the image.
Credits to
Ellen Tube
for the image.
In short, a friendly hangout at the nearby coffeehouse (or the chocolate house) with a birthday cake and a couple of close friends would do the trick. It's similar to what Shaney hatched for Kyle's birthday in CPU. We sought the help of his close friend a couple of days before the big day to divert the birthday boy's attention and keep him from running off while we brought the birthday cake in. Let's just say that from his reaction when we entered, he suspected that something was amiss from the atmosphere. The only picture that I had of him slicing the cake was so blurry that I eventually destroyed it when I graduated from college.
That's pretty much my reaction when my own birthday rolled around, too. The aura in the Student Lounge was unusually weird. My gang of friends won't disappear together into thin air - and my calls to two of them went to voicemail, which raised alarm bells. I sensed that there was something more to it than meets the eye when another acquaintance insisted that I follow her to her usual hangout to pack her lunch, but I chose to play dumb, lol. I was in heels because of the class presentation and was rather unwilling to walk more than necessary - because that pair hurts! The part that made me raise my eyebrows internally was when Abhi came over and said that Kyle was looking for me. (In actual fact, we've each other's number and knowing him, he usually doesn't ask for me unless he needs my help on something.)
It'd be tough for my sister to repeat this because she'll need the assistance of someone who's cunningly convincing to disprove my suspicions, but I'll give her the credit if she's able to execute it without my knowledge.
My apologies for heading off on a tangent, lol. It's just that those were the best times of my college studies - way before circumstances blew it apart.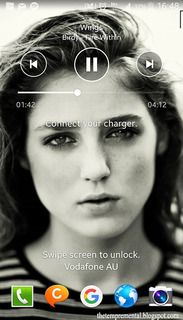 One of the songs that I'm currently hooked to: "Wings" by Birdy.
Now that 2nd semester has rolled around, it only means one thing: it's time to swim in the contents of the pressure cooker. After having learnt my lessons from the unexpected adventures and unnecessary stress last semester, I've decided to stay true to the study plan. It'd be horrendous if history was to repeat itself. Not only do I've to face the possibility of running into that person, it'll be for the fourth time in 18 months, mind you! If you've been frequently reading, you'll probably have an idea on his identity and the course in question. It won't be him who'll gawk at me with horror in lectures. It'll be me going out of my way to avoid the awkward encounters with him instead.
(On a side note, I want to rationalize that it is a case of coincidences, but certain aspects of it hint at Fate's invisible stroke - because, technically, it was my sister who chose that Constitutional Law timeslot, not me. I personally would prefer if there was a seminar offered on Mondays because it was less hectic. As for him, I'm sure he would've picked a more suitable time instead if the ones offered didn't clash with the lectures.)
Not to mention, if I swap courses again, I don't want to break the news to my good friend that I forgo the opportunity of being in the same course as him because I wanted to fill my penultimate year with electives. I'll tell you why; the poor chap was a little worried when I passed him the movie ticket in an envelope (to avoid prying eyes - you never know how furious the campus grapevine can be) and warned him not to fear about its contents. He later explained that he thought it was a farewell letter, elaborating that I'm doing a credit transfer to another university interstate. Dude, trust me, I'd have done it if I could. *sighs*
(It still surprises me that he remembered what he told me about the courses last October, though. Can I count that as a promise with valuable consideration?)
So, no, I'll be the obedient student this time around. *winks*
While I was aware of the impact that the chosen courses would bring to the academic workload, I didn't stop to think twice about its effects on my academic timetable. It's definitely not as hectic as last semester - where I didn't have any rest day. I'm much more relieved this semester that I've more free time to focus on the independent study and some other matters (read: hiding in a cave to take the time out since I'm susceptible to exploding nowadays), although I've 5 hours of back-to-back lectures to tackle weekly. Since I've endured it before as a freshman in CPU daily with the help of caffeine and 100 Plus, I should be alright without relying on stimulants to keep me awake now - but you'll never know.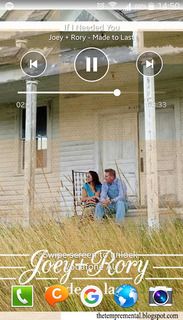 Another song that I'm hooked to: "If I Needed You" by Joey and Rory
I've scheduled some posts - especially the pieces of short stories - to be published during my moments of absence. If you don't see me around the blogosphere, I'm probably beating the assignments until either it has turned blue or my hands are exhausted. I'll still reply to comments and hop over to read blogs, but it won't be as frequent.
We'll see what this semester brings. If you hear me yelling with non-curse words, I'm cringing at the fact (of something).