Sorry for the picture quality; it was taken with a W508. Worry not, the cake looks and taste better in reality.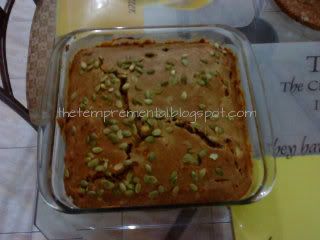 Serves 8
Dry
200g flour
50g wholemeal flour
1 tsp baking powder
1 tsp baking soda
1/2 tsp salt
2 1/2 tbsp Chinese wolfberry (kei chi in Cantonese)
raw, pumpkin seeds (optional)
Wet
200 cc milk
1 tbsp molasses
1 tbsp butter, room temperature
2 ripe bananas, mashed
1 egg
50ml oolong tea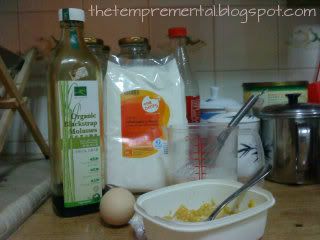 Directions
Preheat oven to 160°C/320°F
Oil a
4-qt baking dish
with 1/2 tsp of butter
Combine butter with flour using fingers
Mix in milk, egg and tea using a balloon whisk
Fold in bananas, wolfberry and molasses
Pour mixture into dish and even it with a spatula
Sprinkle pumpkin seeds (optional)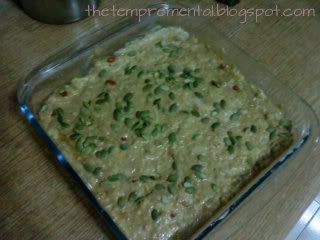 Whack it in the oven and bake for 60 minutes
Tips
If the taste of molasses sends you running away, try substituting it with 3 tbsp of sugar or with figs. The figs will however accentuate the sweetness in the cake, so use it with care.