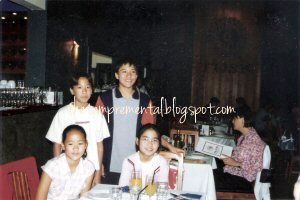 Top (L to R): Michelle's brothers; Bottom (L to R): Michelle, Ciana (yes, that's me)

I was more than displeased when I heard that a group picture was going to be taken but I guess I hid it well as there is no obvious trace.

That was the 'before' me; life seemed so perfect back then with radiated happiness in the air.

This is the 'now' me; my sleeping hours have crashed and gone upside down as the day approaches by the minute with deep exasperation in tow. The second sick hand has fallen greatly under the weather, insisted to let nature takes it course and killed my nights in the process. I don't know what energy I am surviving on, but I know that if I don't have a time frame to pack the things up and leave, it will make the process easier.

My wallet will grow thinner for no apparent reason because of the move. I'm deeply pissed off because all I think about now is the arrangement of items in the countless amount of boxes that I have with me. Moving has never been an issue but once I'm slapped with a short time frame, it ruins the mood in me especially when there are so many cabinets to ransack with so many things to filter and only a pair of hands to save my sanity now.

Heal the sick hand and I won't be

this

exasperated. I will be mad, but I won't be

that

mad until I'm an overactive zombie. =/

It's encrypted, but it's obvious enough for the two people who wanted their way. My temper will flare up again if I ever run into them, so fingers crossed that the rope will forever be burned. If they don't want the rope to be burned, they have to extend the time frame (and from the way I see it, they won't; in fact, they can't wait for the time to be up).