Amidst the immense and growing pressure of completing everything before Chinese New Year, I have finally managed to throw some time out and write the promised, proper post. It stinks when I recollect my decision on throwing it aside; it's making me burn midnight oil to finish it exactly on the dateline.
I'm afraid there isn't much to reminisce on – apart from the outing with Kar Wyai – but since today's post is about reminiscence, I shall try to reflect on the past year of 2012 and write on the memorable events that have embedded itself in my porous brain.
The contents of this dream came true on New Year's Day to Mama Carrie's surprise and to my stoicism. What comforted me was that [the sender] still remembered me after the months of distance between us. We are merely cordial now; we are no longer keeping in touch that frequently.
Chinese New Year was differently celebrated; instead of the open houses, we chose to instead remain where we were at and welcome the festival with a buffet brunch at the now-closed Hotel Equatorial KL.
More specifically, Kampachi Restaurant.
The first attempt at baking turned out disastrous; it tasted crap and looked like crap. I can't tell if my skills are improving because the consistency of my cake and muffin batters is forever sporadic. One minute, it's perfect; another minute, it's as wet as melted ice.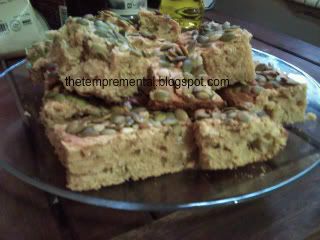 And now, I'm hooked on an original recipe: chocolate loaf. It's actually chocolate cake baked in a loaf tin. I would love to spend more time in the kitchen experimenting with recipes but there is one particularly important issue that needs to be dealt with, and I'm suffering a setback with such a small kitchen.
As the year came to an end, I slowly dabbled a little bit in food reviews. It had been something that I wanted to do for quite a while – but I had to improve my way of descriptions before I could venture even further, which I did.
I hope that in this current year of 2013, I will be able to execute everything that is that I have failed to do or avoided in 2012 before the Season of Advent announces its grand arrival.
I won't reveal much about it; I'm not sure what my list of resolutions is, haven't been able to sit down and pen it down. I'll make a mental note as the months pass us by.