#nowlistening to - Rimi Natsukawa - Shima Uta
Too many things have been juxtaposed in the form of university preparations hence the lack of posts lately. My God, the amount of stuffs that I need to do for the visa application is making my head spin. Those cousins are damn lucky to have gone off earlier than me for their studies in Melbourne and Sydney, pfft. >=/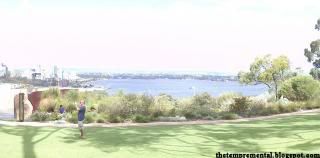 Penning this post could be tough because it would be peppered with emotions - negative and positive, but more of the former - at every nook and cranny, but where there's a beginning, there has to be an end, right? It's been ten weeks since our matriculation journey has opened a new chapter in life; some of us have taken flight to places unexplored while the rest are weighing their options, unable to finalize a decision at the moment. In less than 6 months, however, it'll be my turn. My heart is steadfast on chasing the elusive paper in one of the Australian states and nope, it's not the ones abovementioned.
It's a place that, to be honest, I've never considered and contrary to the fact that constantly swims in mutual friends' eyes when they heard of it, I'm going there for no one but myself.
(At least for once, I'm not bowing down to their orders. Why in the world were the relatives screaming for Sydney anyway?)
I don't know; after contemplations and reflections, matriculation life has taught me things that I thought I already knew beforehand. I'm still having a hard time wrapping my head around it, especially when the scar left by the piercing sword is as fresh as the cake I'm currently eating. Then again, being at this age had its advantages: at a time when I was silently fuming, I created an achievable goal for myself and diverted my attention into fulfilling it. If it meant sacrificing friendships/acquaintanceship, so be it. They'll respect my decisions and accept it if they truly understood me - or as they have proclaimed under the melting sun.
After a tremendous amount of hard work and sleepless nights, I made it a living reality, yay!
(I could see it in Mr. Layng's eyes that I was becoming the person that I'm capable of being.)
But it was around the same time that I realize that there were envious eyes
(Just because I don't say anything doesn't mean that I am unaware of it. I chose to remain reticent because there's nothing I can do about it)
that were probably jealous of my achievements, lol! And now, it's like I'm being slapped with flashbacks on my return trips to campus. Memories that were once shared have crumbled with the force of a wind velocity, leaving in its wake a path of burned ashes.
It may sound like I'm filling the cracks with silicon, but I've grown out of that stage. It's too painful to do so and I'm not suffocating myself anytime soon. (
My English classmate loved the formalism lens whereas I'm leaning towards the psychological lens... and we now know why, finally.
)
I don't want it to come to a point where they'll only remember me when I'm no longer with them. Plainly said, I want to avoid this situation from occurring again: in the middle of the funeral hall lays the coffin that holds my body. Next to me are the flower stands with condolences from my peers in the trade and in front of me are 5 rows of chairs on each side for mourners to weep. Attached to the casket is a framed black-and-white photograph of me. It is silent, save for the loud cries and nothing can be done to undo or repair any mistakes previously committed.
But it can't be avoided because I'm no longer the person that they knew as (
someone's close friend
). Circumstances have made an impact, changing not only me but a majority of my perspectives as well. I can't wait to begin the adventure and embrace the life of a university.
It'll be at least 4 years before I'll run into anyone on the streets... and that is if I'm fated to run into them again.