Since the crisper was empty yet again and with no time to head to the grocery store, Mama Carrie raised the thought aloud of either catching a meal outside or be holed up inside and bury our faces in baguette sandwiches.

I chose the former, suggested an old Japanese haunt of ours: Hyotan Restaurant. Back in the day, we used to dine here at least once a month when someone (not me) had a serious craving for their potato salad and soft shell crab.

A word with the waitress revealed that the former Japanese partner used to manage a nearby restaurant (Shun) but eventually partnered up with someone else to open and manage Hyotan. I've not seen the local business partner; it's always the Japanese guy that we seemed to run to then, but he has since retired and returned to Tokyo with his wife.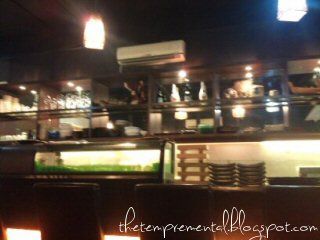 The sushi bar



The menu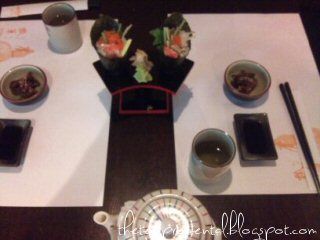 California Roll



Close-up of California Roll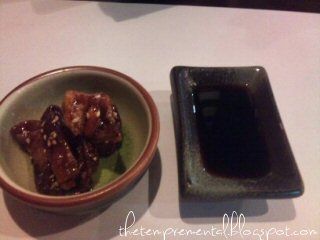 Grilled Fish Skin w/ Shoyu

Crispiness was what I tasted after the first bite, and pleasing to the palate even without dipping the shoyu.

The skin, on the other hand, has to be either from eel or salmon. I can't think of other fishes.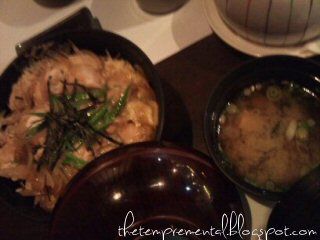 Oyako Don w/ Miso

A comfort food for the starving tummy. The overall taste was perfect; it contained a balance of sweet and salty without overpowering the buds with either taste.

Everything about Hyotan Restaurant remained the same: the food is as delicious as ever, although I'm not sure if they have skimmed down on the portions due to rising costs and the employees? Ah, they are still the same people that I am familiar with.

Let's see, will I dine here again?

Even though it was a pricey meal, I'll be sure to patronize the restaurant again - but only when I'm craving and missing their oyako don.

Address: No. 63, Jln SS 15/5A,
47500 Subang Jaya,
Selangor

Tel: 03-5636 0326 / 03-5635 0328

Business Hours: 12pm - 2.30pm (Lunch), 6pm - 10.30pm (Dinner)