The Year of the Water Snake had brought with it tremendous amount of stress and a hell lot of sleepless, zombie nights. And because of that, I chose to allow the festive season to slip past my fingers like a normal, mundane day.
So, what did I do during the season? It's easy to guess, if you've been reading my posts for the last couple of months.
After patronizing Kiara Hill and filling the fridge with groceries, I crashed onto the couch when we returned home with wobbly, jellified legs. Talk about it, my usually-perfect memory has suffered a blow and as long as I'm pushing myself past my bedtime rushing up things, it'll be on a downward decline.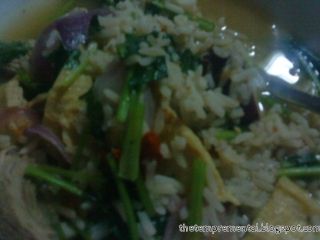 We're pretty lazy to whip up some fancy and sumptuous Chinese cuisine, so we stuck to the Teochew porridge. Not the typical reunion dinner you'd expect but, as the saying goes, beggars can't be choosers.
Seeing that it was the festive of celebration, I shot straight for the Korean accessories shop in Ikano and bought myself this lovely pair of earrings.
It was something that I had eyed on for a long time, but never had the opportunity to actually buy it.
No thanks to the noisy, inconsiderate neighbors (we're talking about more than one household now), the fireworks and loud yells kept me awake until 15 past midnight - when I'm supposed to be crawling around the house at 7am sharp the next day.
Arrived at Kiara Hill terribly late; there weren't too many souls as I had expected, but there were still enough folks to keep the slithery snakes at bay.