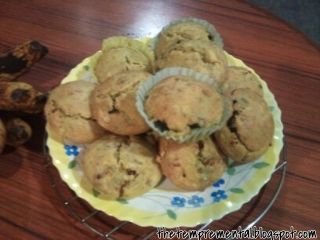 Dry Ingredients:
2 1/4 cups cake/pastry flour
1 tsp baking powder
1 tsp baking soda
1/2 cup figs, diced
1/2 cup raisins, halved
1/2 cup almond, finely chopped
Wet Ingredients
:
1/2 cup mashed bananas
1 cup milk
1 tsp vanilla extract
2 eggs
1/2 cup olive oil
Directions:
Line paper cups in a 12-pc muffin tray
Pour oil and vanilla extract in a mixing bowl
Beat eggs one at a time, flour half at a time and milk half a time
Scrape the bowl after each process, making sure that there is no batter sticking to the bottom of the bowl
Fold in raisins, figs and almonds. Mix well.
With an ice-cream scoop, evenly scoop the batter into the paper cups.
Bake at 130 Celsius for 30 mins
Leave on a metal tray to properly cool before serving.