Ingredients:
2 eggs, beaten
1 Tbsp sesame oil (
I used the one that Mama Carrie bought from Taiwan last Deepavali
)
1 Tbsp tomato sauce (
I used the brand called "Newman's Own"
)
1 cup of overnight spiral pasta
A pinch of pepper
A pinch of salt
A pinch of bread crumbs (
I used the one bought from last year's Australia
)
Directions:
Turn the gas to medium low.
Coat the pasta with the tomato sauce.
Dish out onto a serving plate.
Beat the eggs and mix with the bread crumbs.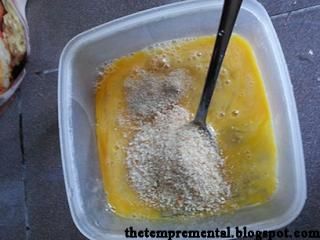 Pour the batter in a preheated and oiled pan.
Cook the egg batter on medium low fire until there are no more bubbles.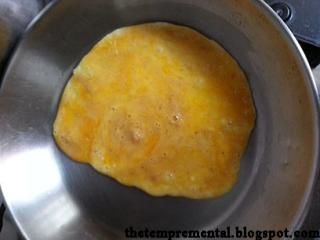 Serve the pan-fried egg on top of the pasta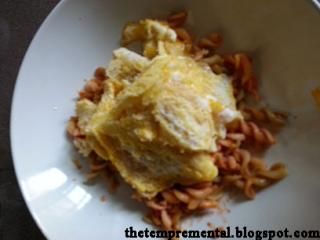 The final result. (
I know the presentation is terrible, please forgive me on that
)