(written from our December 2013 - January 2014 summer visit to Perth)
First of all, please allow me to apologize that this post is a year in waiting. It wasn't until I looked at all of the pictures taken in Western Australia on the iPad that I was reminded to share my experience of staying in Travelodge Perth. Also, it is with the deepest regrets that I don't have the actual pictures of the hotel room we stayed in.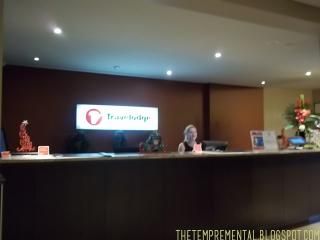 The reception
After being cooped up in the aircraft for almost 6 hours with another hour spent at the domestic airport and on the journey into the city centre, it was lovely to be out, smelling the welcoming but chilly air of the city centre to refresh the exhausted soul.
Discarding all original plans of a prior booking, which was a gamble, mind you, we decided that it'd be best if we straighten our inquiries with the hotel employee on duty before actually moving on to the reservation.
The receptionist in charge, Manuela, clarified all of our questions with patience and explained that it was a hotel policy to collect a refundable security deposit of AUD$50 before proceeding to make arrangements for us to view some of the vacant rooms - all on different floors: one was with a balcony, overlooking St. Mary's Cathedral and Mercedes College whereas the other two were on different floors but furnished in a similar manner. After a quick's moment of hesitation and discussion, we settled for the 2nd option and settled with the procedure, which included paying all of our 17 nights stay in advance. Using the December 2013's exchange rate of AUD 1 = MYR 3, the total amount was AUD$2023 (= MYR 6069)
Credits to
Travelodge Perth
for the image
A quick reference to the aforementioned, only a valid credit card is allowed for the security deposit and it's refundable - as long as you don't consume anything from the mini bar, break/spoil anything in the room or purchase their temporary Internet plan. (I'll elaborate more on this in a short while.)
I was greeted by a comfortable and enveloping aura the moment we unlocked the door. On the right, behind the door, there is a luggage tray for you to place your baggage and next to it is the wardrobe, where the ironing facilities can be found. On the left is the toilet. If you walk in further, you'll see the bed, all nicely made and decorated with a telephone and alarm clock on the side tables that are placed on both ends of the headboard. The mini bar is within reach. Sachets of Mocona instant coffee and tea bags are provided (I have no idea whether they still do; we're talking about something that happened almost a year ago). Anything that is consumed from the mini-bar is chargeable, so keep this in your mind before you reach out to the fridge on instinct. The dressing table is below the wall-mounted cable TV and is arranged in such a way that you still can watch the channel even while writing something on the table. The dressing mirror is opposite the one-seater sofa, with the floor lamp at the far end of the room, providing a soft and relaxed lighting after sunset.
Since it was Christmas Eve and we were dead tired from the flight, we buried ourselves under the mattress in exhaustion and called it an early night. There was a part of me that didn't want to wake up in the morning and wanted to glue myself to the bed as it was extremely cozy. Although the pillows at home were of the same quality as the ones that hotels are using, there was a different feel to Travelodge Perth's bedding; it was gentler and silkier.
The facilities include:
•Wi-Fi (fees apply)
•Telephone with Voicemail Facilities
•Electronic Security Lock and Peephole
•In-room Safe
•Hair Dryer
•Iron and Ironing Board
•Individual Climate Control Air-conditioning
•Work Desk with Lamp
•Tea & Coffee Facilities
•TV- Flat Screen with Radio and Cable TV
•Mini Bar - In-room (fees apply)
•Restaurant Delivery Service (fees apply)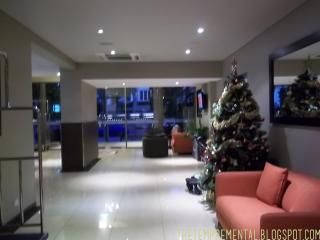 The lobby
As hinted in the abovementioned, the Wi-Fi is strictly only for 15 minutes per room every 24 hours and it's only accessible on the ground floor - at the sitting area opposite the reception. (I threw in the towel and purchased the 24-hour wireless broadband plan, which left me AUD $19.95 poorer, towards the end of our stay, eventually.) There are Internet packages that you can purchase once you're connected to their system from your hotel room, ranging from an hourly rate, a daily rate and a weekly rate.
Housekeeping wise, it's okay, although there can be improvements made. The housekeepers will usually only empty the trash bin, make the bed (including changing the bed sheet and pillow cases) and clean/wash the bathroom, but if you want anything additional like vacuuming the carpets or for additional towels, you'll have to make arrangements for that through the reception. Plus, we're all familiar with a complimentary pair of flip-flops, right? Well, in this case, there was none and it caught us off-guard because we never planned on bringing flip-flops with us.
Dear readers, here's a tip from me: don't make the same mistake as we did. Even though the hotel may provide those flip-flops free of change, it's always best to include an extra pair or two of the disposable (if possible) ones in your luggage as a backup, unless you don't mind walking around in Converse or sandals most of the time.
As you explore further, past the elevators on the ground floor, you'll stumble upon a business centre, which usually is vacant. Feel free to use the computers at a chargeable usage of AUD$2 per hour or leisurely browse through the provided books and indulge in some reading to kill some time. Hidden behind the business centre is a mini gymnasium. It doesn't carry everything that you'll find in the fitness centers, but the basic machineries like treadmills (the only one I recognize) are provided. You could also carry weights, if you wish to.
The anchor restaurant is opened for hotel guests and public likewise and serves Western and Asian dishes, but since I didn't sample their dishes, I can't say much about it.
The receptionists are more than friendly and helpful; they will try their utmost best to guide you and assist you in all of your inquiries and questions. If you're lucky, they may be even able to suggest touristy places that are not as popular. Ellie, who was working on the day we dedicated for exploration, recommended that we should give Harbour Town a visit as it was a shopping place that most travelers patronize whenever they are in town. Centro Galleria in Morley was another recommendation.
Outside the hotel
Travelodge Perth is located within walking distance to both Murray Street Mall, Hay Street Mall and St. Georges Terrace, a pharmacy, a couple of restaurants and cafes, Croissant Express (this sandwich cafe sells one of the best sandwiches in town), St. Mary's Catholic Cathedral and St. George's Anglican Cathedral, Royal Perth Hospital, Dome in Adelaide Terrace and Swan Lake.
Failing which, you could always hop on the free red CAT from the Victoria Avenue stop in front of the hotel and familiarize yourself with the area. The remaining Blue and Yellow CAT buses are accessible from Hay Street Mall and Forrest Chase, respectively.
The hotel itself
Name
: Travelodge Perth

Address
: 417 Hay Street,
Perth,
Western Australia 6000,
Australia

Phone
: +61 8 9238 1888

Website
:
http://www.tfehotels.com/brands/travelodge-hotels/travelodge-perth