As you may have already noticed, half of my weekends are spent hanging out and running errands in a particular haunt or on those rare occasions, the neighboring buildings. Since it was considered a holiday in the valley-sized state, we loitered at the area even longer, gasping in display of Christmas ornaments at the concourse.
IPC chose to incorporate the Swede Christmas Tales, magically breathing life to the story characters and taking a tangent this year.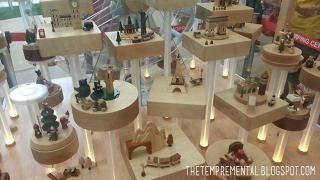 A showcase of Taiwanese-made wooden musical box by Living Cabin.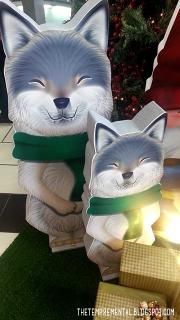 Wolf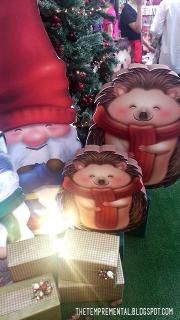 Tomte with Hedgehod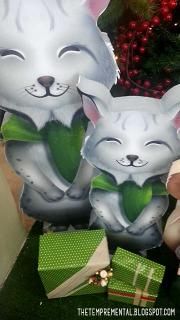 Lynx
Red Squirrel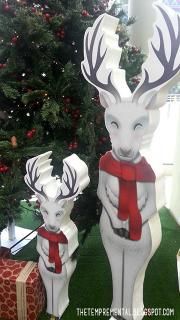 Yule Goat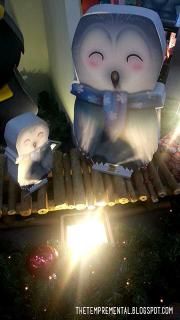 Owl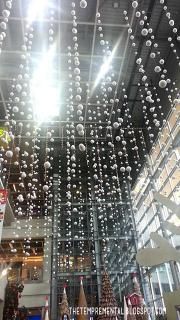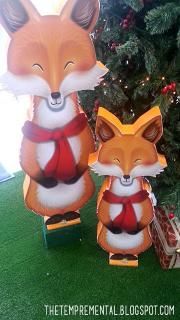 Fox
The moment when I saw these, I remembered a particular scene from Dora the Explorer when a sneaky, orange-furred fox (christened as Swiper the Fox) would appear from behind and attempt to steal things from her. She'd have to repeat "Swiper, no swiping" thrice before he made his move to successfully shoo him off.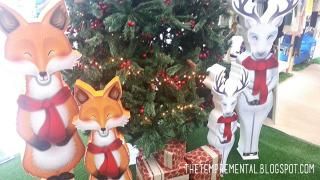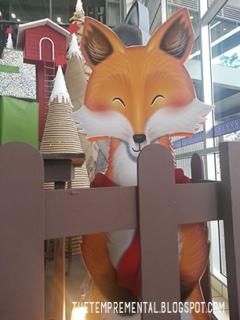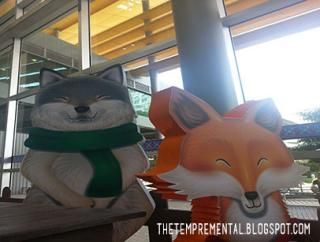 Wolf and Fox
"Hope you had fun touring our area and listen to our individual stories," says the animals in unison.
As if there wasn't enough Christmas air in IPC, we hovered over to The Curve, confidently knowing that the mall's decoration will never fail to disappoint the shoppers. A sense of exhilaration and suspense filled the cells when I entered the building from the 1st floor retail lots and so was Mama Carrie; we whipped out our cell phones and while she focused on the screen, I randomly captured the photographs.
It was Santa's private residence being opened for public viewing. The management has definitely succeeded in emulating his fictional dwelling. Although his loyal servants and trustworthy snowman were within sight from eye-level, Santa himself was sitting on the roof, basking in the comfort. The picture that I took of him on the cell phone was blurry and later deemed unsuitable.
Some of the items, such as the snowflakes floating from the dome of the shopping mall and the hanging Christmas lights, are recurrent; it was first used some years ago but in a different style.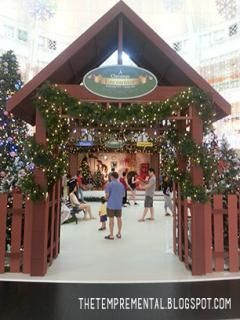 Welcome to Santa Claus's house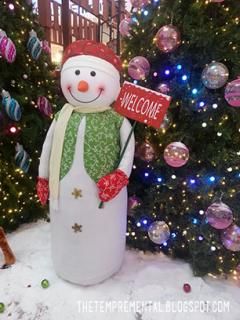 Santa's trusty snowman
Santa's living hall, where he reads all the letters from hopeful children and sometimes adults worldwide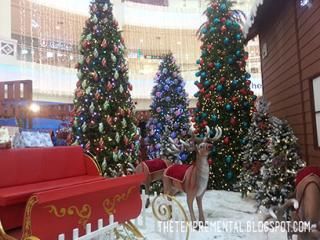 Santa's faithful reindeers waiting to embark on the exhilarating journey of giving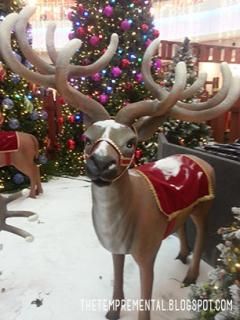 "Oh, hello," says the reindeer. "Didn't see you coming there."
The overall aura of Santa's house
More pictures of IPC and the Curve's adornments can be found
here - on The Tempremental's Facebook page
.