Although I initially intended to utilize the Worthy Book voucher that has been in my possession for a couple of snacks in Mr. Siew Bao, Empire Gallery, it wasn't until Mama Carrie needed to settle the telecommunication matters with urgency that I decided to kill two birds with one stone.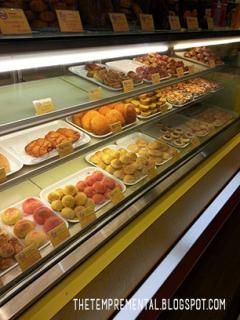 There is a wide variety of Chinese snacks being sold including egg tarts, the Teochew wedding biscuits, egg rolls, winter melon biscuits and more that I can't remember.
I'll have to admit that I was purchasing the items with a sense of apprehension; my previous experience with the siew bao wasn't too perfect and I really hoped that it'd not occur, but much of my dismay, it transpired again.
Siew Bao
I'm sorry to say that Mama Carrie and I both felt like we were ingested pure, coarse salt. I understand that this is for preservation purposes as the spokesman did assure us way back when that no chemicals were added into the patisserie but it was in excess.
It didn't explode with the flavors of a freshly baked item either. It leaned towards staleness instead as if the paste had been prepared a day or two in advance, but it was still edible.
When I first tasted this dish during its days of infancy, it was heaven and contained less oil and sodium chloride but after such a long period of hiatus, the quality has dipped tremendously with the extra addition of oil and sodium chloride, which is such a pity as Mr. Siew Bao has a lengthy history behind the name.
I really hope that this is an isolated incident because it'll be such a waste to see my favorite brand losing specialty.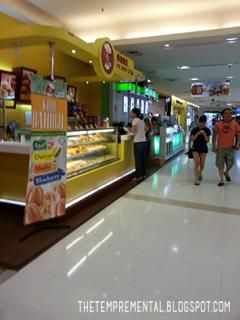 Address: Mr. Siew Bao,
F1.K1, Sunway Pyramid
No. 3, Jalan PJS 11/15, Bandar Sunway,
46150 Petaling Jaya,
Selangor Darul Ehsan.
Landmark: It's a mere booth away from Maxis on the 1st floor of the new wing.
For more information on Worthy Book, you can peruse the following links... or even purchase a booklet for yourself to use?
W:
www.worthybook.my
F:
www.facebook.com/worthybook
I:
www.instagram.com/worthybook
T:
www.twitter.com/worthybook_my
B:
www.worthybook.blogspot.com
Y:
www.youtube.com/user/WorthyBook
FnB Edition is available at all major bookstores (MPH, Popular, Times, Borders, Kinokuniya) and selected myNEWS.com outlets in KL and Selangor.