Update - 9th December 2014: The figures marked in bold are the new charges for both lei cha and salad sushi.
A word of warning: Some of the words were copied directly or paraphrased from my Writer's Craft portfolio on Organic Freshmart. To those who've read it from cover to cover or seen glimpses of it, please refrain from making remarks about the stark familiarity.
Feeling exceptionally lazy to whip up the dinner, we remained behind in the restaurant after purchasing the bi-weekly ingredients. There may be a belief or stereotype that organic meals are not only pricey but bland, but that is not the truth here; the owner intends to break that label by introducing a variety of healthy, cheaper and tasty dishes for the diners. The atmosphere, on the contrary, is homely and welcoming; it is reminiscent of families coming together at the dining table and sharing the juiciest events of the day. Among the many decorative items reminiscent of it are the gas lamps and wooden table and chairs. The loud buzzing of conversations can be heard as soon as you enter the restaurant. Depending on the hour, you may have to wait before you can be brought to a vacant table, and for all of you, meat and egg lovers reading this post, you'll have to consider giving this restaurant a miss because soy and tofu are being used as meat replacements in the making of all dishes.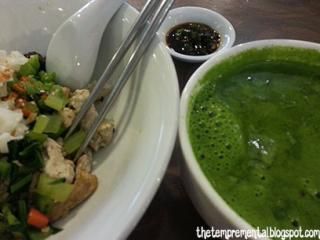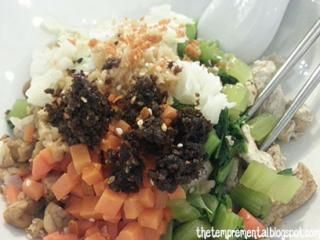 Raw ingredients: seaweed, tofu, carrot, corn, rice, cabbage, beans, black wood ear mushroom and tempeh (fermented tofu)
The bowl of lei cha (RM 8.90)
[as of 9th December 2014, it is RM 9.90 per bowl]
that we ordered was delivered in a matter of minutes to our table with the accompanying soup. The various tastes of all ingredients have been combined into one homogenous blend but the flavors aren't overriding each other or fighting for supremacy; it intermingles perfectly. There are two ways of consuming this: it's either you eat the vegetables and end the meal with the soup or mixing the soup and vegetables together. I personally prefer the second option because we can be greedy when it comes to this dish and like to have a bite of everything.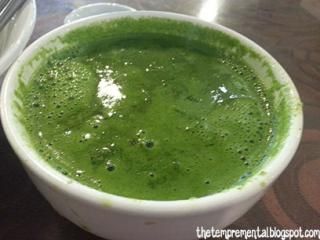 The lei cha soup contains a refreshing taste as the inclusion of basil herb lays the foundation and the strong scent of sesame oil plays its part by lifting the dishes higher, coating the throat with its whiff. You can feel the ideal tang with each sip (or spoonful).
What about the salad sushi (RM 7.90)
[as of 9th December 2014, it is RM 8.90 per plate]
?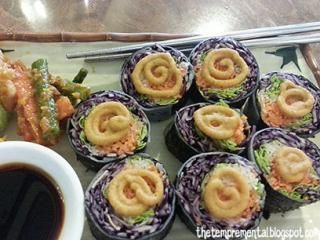 Well, it is the restaurant's remake of the ever-popular Japanese sushi that contains vinegared rice rolled with cucumber slices, imitation crabsticks and a selected type of fish such as unagi or tuna. In this vegetarian twist, carefully chopped and rotated inside a sheet of Chinese rice roll - chee cheong fun - is a variety of raw, sliced vegetables: carrot, turnip and cucumber. The slight addition of vegetarian mayonnaise, which uses silken tofu and copious amount of soy milk instead, enriches the dish by integrating all of the contrasting flavors into a homogenized one. It surprisingly tastes so great that you will never be able to notice the absence of eggs. A spoonful of sweet acar is included, consisting of sliced and fermented carrot and cucumber with an added punch of chili powder and a slight dash of chopped peanuts.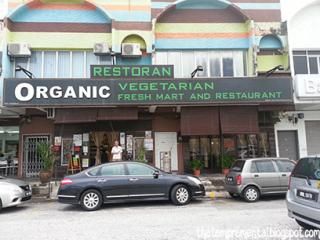 Name: Organic Freshmart Restaurant
Address: 17 and 19, Jalan SS 18/1B,
47500 Subang Jaya,
Selangor
Telephone: 03-5636 2468