I was supposed to meet with Kar Wyai for brunch somewhere else but Mama Carrie ruined everything when she said that she needed me around to settle some last-minute errands in Sunway Pyramid... and so, that's where we headed instead.
Needing to catch lunch and feeling slightly lazy to eat the homemade cakes (yes, Ciana is a wannabe baker at home) or whip up okonomiyaki, we patronized Pasta Zanmai again, hoping to catch the familiar dishes but seeing that the menu has been slightly altered, we decided to take a gamble.
You may want to read about my first visit
here
and second visit
in Empire
as well.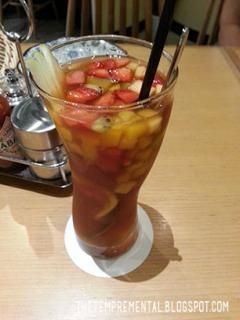 Ice Fruit Tea - Glass (RM 8.90) is a combination of fruits: strawberry, green + yellow kiwi, orange slice, mango, watermelon, lemon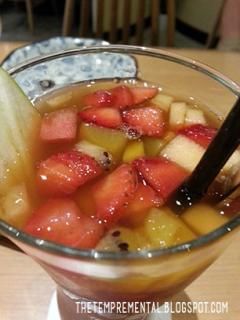 I knew that this was the condiment that I wanted to order when we entered Pasta Zanmai, partly because Iced Fruit Tea was the one that cemented my memories with friends in this branch and the one in Empire Gallery. With each sip evokes a scene; it was like watching those happier days being replayed before me.
Unfortunately, even with no added sugar, it was still perceived as sweet as if it was pre-prepared and doused in peach flavor. It was not infused by the homogenous combination of fruits; that will contain a unique twinge instead. On a positive note, the mind appreciated the idea of downing something refreshing that soothed the soul with something as healthy as this, with the Vitamin C being blended in the cold liquid. For a voracious diner like myself, the elements were impeccable as a snack to nibble on while waiting for the main course.
I didn't originally intend to order this dish as I was perusing the menu back and forth for something else. Mama Carrie suggested that we decide on this because she's aware that I'm capable of eating beef (even with the distinctive flavorsome fragrance) and wanted to share the portion with me; the starving me didn't give much thought and went ahead.
Hayashi Gyusuji Garlic Omu Rice - Set (RM 29.00); Ala-Carte (RM 26.00) contains mushroom, broccoli, omelet and rice
Tilting my head back and forth, the presentation of the dish kept banging in my head as if to remind me of something that I've seen or tasted sometime ago. The first glance had faint traces of a local Thai-influenced dish called Nasi Pattaya, which was exactly what I had years ago somewhere downtown.
We harbored a sneaking suspicion that the bite-sized pieces of beef was stewed until well done, instead of the rare or medium rare that people will request in Western restaurants; it may have been chewy but not rubbery in texture like it has been overdone. I really love how the gravy merely compliments this main element, which allows it to shine through its individuality without the diner being overwhelmed by the sudden twist of taste; that twang coats the palate with a meaty taste yet it doesn't leave you thirsty.
The broccoli was coated in the thick gravy as it slept comfortably on the dressing. The pepper-infused rice was wrapped in an egg-shaped cave and protected from the curry sauce, allowing the idiosyncratic aroma to be sealed. It is a good infuser for something neutral like the rice whereas the shimeji mushrooms were done to perfection; the natural sweetness seeping into the taste buds with ease. I barely touched the gravy aside because it looked starchy and oily.
Mama Carrie would've preferred if there was an option of serving it spicy with chili sauce and pepper to masquerade the tang but overall, she is comfortable with the preparation and texture, hinting that she doesn't mind sampling this again.
Unagi Avocado Tortilla Roll (RM 20.00, 6 pieces)
It consists of lettuce, a cucumber slice, a slice of
tamagoyaki
(= Japanese rolled omelet), avocado + unagi slices, fish roe and a splash of onions, drizzled with mayonnaise and
shoyu
(= Japanese soy sauce).
This was ordered on impulse and as a backing; in the event Mama Carrie prefers something light instead of a dessert to end the meal, this roll will be a good substitute.
The star of this dish is the
unagi
, which is a Japanese freshwater eel, and accentuated with a spoonful of avocado slices. Forming the adhesive to bind the contents with the tortilla dough is a thick, flattened blob of mayonnaise. The first bite launches a sweet base in your palate and unfortunately overpowers the neutrality of the lettuce leaves and the
tamagoyaki
, leaving an aftertaste you can't quite identify. Consequent crunches however strive to counterbalance that feeling, contrasting the sudden burst of the
shoyu
's piquancy with the faint hints of sacchariferous splash of more mayonnaise. With that being said, the lettuce leaves, if deconstructed and eaten individually, furnishes and stimulates the palate like a breath of fresh air. It is prominent as one element in the preparation process and it feels more like a salad if consumed in this manner - or at least to me.
I personally favor this roll over the aforementioned one as it is light on the digestive system and does not weigh the taste buds with the compelling touch of an overwhelming element, yet it fulfills a famished soul with ease.
It is recycled from Facebook, and only because I forgot to take a picture of the exterior before I left
Address: F1.73, Sunway Pyramid Shopping Mall,
3, Jln PJS 11/15, Bandar Sunway,
46150 Petaling Jaya, Selangor
Telephone: 03-7492 0710
Landmarks: Find Shojikiya, and you'll find Pasta Zanmai. Other neighbors include the Orange Zone entrance into Jusco and the New Wing entrance into Asian Avenue - all on the 1st floor.