This is a scheduled post. At the time when this recipe is up and published, yours truly is enjoying a well-deserved breakfast in Taman Megah after her hill walk.
Ingredients
200g cake flour
50g maize flour
50g plain flour (you don't really have to, though)
1 1/2 tsp baking powder
1 tsp baking soda
1
1/2
tbsp brown sugar
1
200 ml cup cow's / goat's / soy milk
the juice of one small orange
100g softened cream cheese (any brand would do)
2
1/2 cup raw, uncooked pumpkin seeds
Directions
Preheat oven at 190C.
Oil a square baking tray with butter and coat it with a thin layer of flour and leave it aside.
3
This will help to keep the mixture from sticking to the tray.
In a mixing bowl, cream sugar and cream cheese until fluffy.
Sift flour and add in baking powder and baking soda.
Squeeze orange juice
4
and pour milk and carefully fold in the mixture until a semi-dry consistency is formed. If the mixture is too wet, add more plain flour. If the mixture is too dry, add a little more liquid milk.
5
Pour the mixture into the oiled tray and sprinkle pumpkin seeds on the top.
Bake at 160C for 45 - 60 minutes.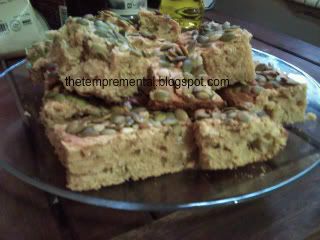 Tips
1) Add up to 4 tbsp of sugar, up to individual preference. I'm one who fancies neither sugar nor salt.
2) Feel free to add more cream cheese if you are a sworn cheese lover. The only difference you'll get is a stronger hint of cheese when you eat the cake.
3) Alternatively, you could substitute the flour with 2 cups of crushed Graham or digestive biscuits as the crust.
4) Worry not if you don't happen to have any fresh orange at home. You may substitute it with 1/2 cup of any unsweetened bottled orange juice.
5) Since cow's milk is readily available and cheaper, it will suffice. If you're lactose-intolerant, soy milk is the best option.