My eyes nearly fell out of its sockets when it saw the idiot driver accelerating out of the auto car wash and attempting to flee the scene, which makes me think that that driver must've missed out on the sign.
I'm keeping this post short; it is sunny at my area, but the thunder's waiting for me to publish this before venting its frustration at its cousin, the sun.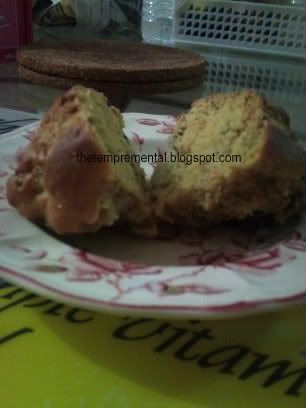 Egg, Banana & Orange Muffins
Dry: 180g cake flour
50g maize flour
1 tsp brown sugar
1 1/2 tsp baking powder
1 1/2 tsp baking soda
1 1/2 tsp arrowroot powder
Wet: 3 bananas, mashed
1 1/2 cups milk
1 egg, beaten
the zest and juice of 1 small orange
Directions: Preheat oven at 160C / 320F.
Line a 9-hole or 2 6-hole muffin trays with paper cases.
Sift flour and sugar together in a mixing bowl.
Add arrowroot powder, baking powder, baking soda and grated orange and stir well.
Pour in egg, milk and orange juice and mix well.
Gradually fold in bananas until a semi-dry consistency is formed.
Divide mixture and pour into paper cases.
Bake for 15 minutes on the oven's lower tray.