Update - 10.15pm: I stole a couple of bites for tea earlier, and it tasted really good. In fact, it has to be one of the best cakes I've baked. There's not a taste of sugar and it's really, really fragrant.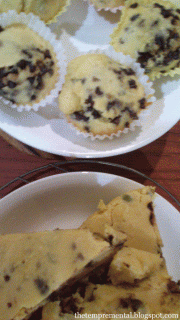 Sunday is the day when I'm able to pull the brake on all the errands and concentrate on experimenting with baking recipes.
At least I don't have to eat the homemade wolfberry-infused pita bread for breakfast daily now.
Dry
3 cups cake/pastry flour
1 tsp baking powder
1 tsp baking soda
1 1/2 tsp table salt
1 1/2 tsp light brown sugar
Wet
4 eggs, room temperature
50g butter, softened
2 tsp vanilla extract
1 1/2 cups liquid milk
Others
4 Tbsp pumpkin seeds
Chocolate chips
Juice of half a lemon
Rind of one lemon
Directions
Oil a 20cm round baking dish.
Preheat oven to 180C/350F.
Sift all dry ingredients except sugar in a bowl and set aside.
In another mixing bowl, add the eggs with vanilla and beat it with the butter.
Fold in flour, half at a time and alternate with milk until the mixture has thickened.
Add lemon juice and rind.
Pour batter into the allocated dish.
With a finger, push chocolate chips deep into the batter.
Bake for 20 - 30 minutes or until the top of the cake starts to "laugh".
It's definitely best to eat it warm and accompanied with a cup of your favorite coffee. =D