After attending a Good Friday night Mass a couple of years back, I had the first-hand experience of knowing that when things start to slide, it will slide rapidly and yank all emotions with it.
Fast forward to this year.
With the memory still afresh in my mind, I knew that I wanted to attend only the day Mass but who in the world would've guessed that someone in the form of the granduncle would come and mess things up?
We headed off to the place that was agreed upon but when we arrived, he was nowhere to be seen. A quick check with the assistant revealed the truth: no appointment was accepted today as the attending specialist had surgeries to attend to. A phone call to the granduncle revealed even further that he had already learned of it on Thursday afternoon.
What angered us was that we skipped the day Mass because of him and he wasn't considerate enough to immediately notify us of the sudden change in plans, and instead allowed us to waste our time, gas and the exorbitant parking fee.
Mind you, 2 bucks for less than an hour is no child's play.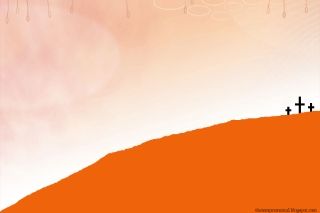 A simple drawing of the Calvary. I'm terrible at art and Photoshop, you see.
If he had the consideration, we would've flown straight to Church and have the evening to us, but for no apparent reason, I had to drag my feet – since it was an important day of observation – for the night Mass in a state of exasperation. It was deepened when not only the whole Gospel was read in Malay but also the prayer of the faithful!
There was not a word to inform the English-speaking parishioners in advance that Malay would also be used!
There's a particular Church which practices this on a weekly basis too. (Go figure, yeah?) It's unfair for the parishioners to attend a Mass that constantly weaves in and out of English and Malay. One is one, not two is one. I've noticed that a lot of the familiar folks have since moved on to other Churches in unhappiness – and we have added another number to the statistics. What I meant is that I've packed my bags and moved out and on.
When the granduncle swung by the house later with the intention of seeing us, I fled the scene as I wasn't finished being pissed off at him and the whole annoyance that we went through. Of all the days, he chose the week of Triduum to be in town!