Finally, a perfect cheesecake! Because I didn't have any round tin of
9
20 cm, I adapted the recipe, halved all the ingredients and turned into a muffin-like batter.
But the texture looks a little like egg tarts. I'm sticking to the no-bake one next time; easier to manage.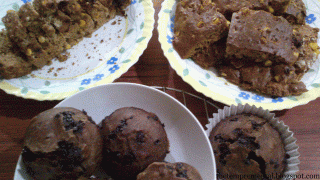 The baking mood suddenly rose in the air.
What you see above is a cupcake-like muffin and a corn and pumpkin seed cake. If you want a muffin or a cake slice, you'll have to let me know.... otherwise, it'd be gobbled. We can arrange the collection a little later, though.