Okay, guys, this is the overdue post for the Taiwan trip. I do have to warn you that it will be wordy, so please feel free to skim through instead of reading each and every word.
I am so sorry that it took me this long to actually write this, but when you have a schedule as busy as mine, you tend to crave for sleep above anything else.
It neared the Deepavali break when Mama Carrie suggested that we take the short getaway to Taipei, leaving on that Sunday itself. I wasn't thrilled with the idea because first, who in the world would bring their heavy assignments on a vacation? I've not heard of anyone who has done that. Second, our expired passport needed to be renewed. Hell if I am going to sacrifice class time.
But the elder won, sigh.
Seeing that there were shortened periods with a two hour break in between for the graduating seniors to attend a meeting, I had no choice but to swap my attendance for the Writer's Craft class with the trip to the Passport Department. To tell you the truth, if there was no History unit test on that day, Mama Carrie would've only sent me for the World Issues class. So yeah, Kyle and Iain, I'm sure you've already heard: I was absent because of this.
I even went as far as to leaving Cookie with a text message to inform him that if I don't arrive by a certain time to please inform the teacher that I'm still stuck at the government branch. It didn't help that the holiday season was around the corner and people from all walks of life were prolonging the validity of their passports. Thank God we managed to arrive on campus in the nick of time with my sandwich from Subway and caught a couple of bites before I flew down the stairs to my classroom. Yes, I flew down, but not literally.
I have to say, that's actually the first time I ate in class but hey, you can't blame the starving wolf.
Fast forward to the departure day.
There was no choice but to wake up at the crack of dawn since the flight was at eight in the morning. Why did we choose that timeslot? We thought that we'd be able to make it for the hotel's check-in time. As you'll read later, it didn't happen.
Two bad things happened once we arrived at Low Cost Carrier Terminal (LCCT).
The Perth-bound Air Asia plane
After sending the luggage in, I suddenly recalled that anything sharp and capable of causing injuries wouldn't be allowed onboard and immediately realized that I have a pair of yellow scissors in my pencil case, which was stored in my college bag that I chose to hand-carry. I will never send that bag in as it will fall victim to itchy hands. True enough, the scissors was confiscated by the Immigration Officer but I really need to thank Lady Luck that I wasn't hauled in for questioning or anything like that. Whew!
That happens when you have not been traveling in years.
Shortly after the takeoff, I caught myself having the sniffles (no, not the onset of a cold) and silently sobbing while catching forty winks on the uncomfortable airplane seat. Gosh, I know it's made out of leather but the texture didn't have to be that rough, man! I barely slept during the 5-hour flight. Don't ask me why I cried; I can't answer you. The tears just rolled down my face in the snap of a finger - and it showed in the picture that I posted on my personal Facebook page. For all I know, my eyes weren't rimmed red or puffy yet I looked worse than I ever did.
You could actually see that I wailed at one point or another.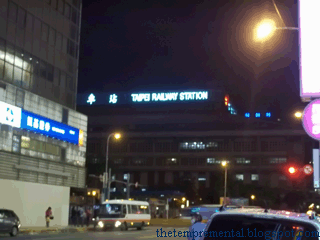 The night view of Taipei Main Station
By the time we arrived at Taipei International Airport, I was an emotional wreck and the winter winds didn't help to soothe my emotions. It, in fact, threatened to break the resolve that I was holding onto. The scenery from the airport to Taipei Main Station (the accommodation was located in the building next door) was beautiful with all the street lights and unobstructed view of the sea and such, but that's beyond the point. The main factor here is the cleanliness of the bus and courtesy of the driver. There was not a speck of dirt to be found in the bus. Whenever we were approaching a bus stop, the driver would ask the passengers if anyone wanted to be dropped off and even helped the foreign travelers to remove their luggage from the compartment, bidding them off as they vanish into their destination.
Compare this with the scenario in Kuala Lumpur, and you'll get a Heaven and Earth gap.
I called it an early night because of the exhaustion and barely eat. My dinner was just a steamed pork bun from the nearby convenience store while Mama Carrie bought a bowl of stewed tofu.
That was day one.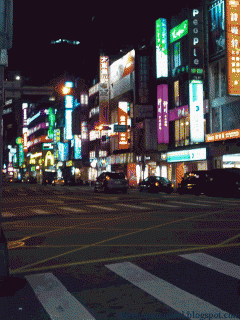 Reminds me of a mini New York City
I didn't know what possessed me on day three. I lied and pleaded with Mama Carrie to allow me to stay back as I needed to complete the rather urgent assignments because I know what will happen if I delay it until my arrival home (which was a day before the deadline).
That was the intended plan. What happened was the total opposite.
I barely touched the notebook and buried myself underneath the blanket, enveloping myself in the mixture of cold and warmth of the tiny room. I silently poured my heart out, thinking of the conversation that I had with him (no, not my love. It's actually someone else. Someone whom I once held close to my heart) while chatting with Bearie on Facebook. I felt emotionally drained and didn't want to do anything but remain in bed all day long.
Yes, skipping meals as well.
I spared my love the full details of this when I returned to class because he was on a rough patch in his life as well and I didn't want him to worry about me instead. I wanted to think that the Taipei trip will help to soothe the emotionally depleted soul; I really do. What it did instead was worsened the situation that I was experiencing.
After returning from an exploration (which included two large mugs of cappuccino, a plate of cheesecake, a reflexology session and some shopping) on the fourth day, the weakened system threatened to collapse at that moment with giddiness and fever but I pushed through. Having to deal with my rollercoaster emotions was already terrible enough and if I fell under the weather, only Lord knows what would've occurred.
We stayed a total of six days there and the thing is that the days leading up to our return home were fuzzy. I can only remember the bus trip to the airport because we arrived 50 minutes too early no thanks to me being blurry. I overlooked the departure time! I read 3.55pm as 3pm. =.="
Taipei Taoyuan International Airport Gate 7, bound for Kuala Lumpur
Seeing that we couldn't buy any suitable presents for Mama Carrie's colleagues and a memorable gift for me during the gallivanting, we hovered around the airport's gift sections in search for the souvenirs. I waited at the seating area not only to keep a watchful eye on the luggage, but also to rest the aching paws.
We rushed up to the Air Asia section to check-in after she bought all of the memorabilia. Little did we know that there was a growing crowd of passengers waiting too! It does make sense, though, because there were only two counters open for the normal processing. Still, we managed to settle the procedure even with minor hiccups and had ample time to while away.
The Immigration officer forced me to stare at the camera in front of me while she asked me a couple of questions - in Mandarin - after she compared the picture in my passport and the current me. I guess it's because I might have lost weight after taking the photograph? With that being said, don't think my fluency in the language is powerful. It's tainted with the Caucasian accent and there are only so many words that I know.
Mama Carrie being Mama Carrie, because she was hungry, she wanted some coffee to satiate the growling stomach. It is ludicrous when you come to think of it: we actually shared a large cup of cappuccino in Starbucks in the morning for breakfast and now nearing the dinner time, she wants to share another cup at the same coffeehouse again?! *eyes widened*
What I feared the most came true the moment I sat in the airplane. I burst into tears but this time, instead of allowing it to flow during the arrival flight, I forced it back in and convinced myself to head off to Dreamland to cope - until the smell of food teased my sense of smell, sigh. While the chap seated next to me was focused on his reading throughout the entire journey, I channeled my emotions into the free verse poem that I posted here earlier.
How we managed to carry our entire purchases home is a wonder as the luggage wasn't large enough to contain everything. If there are things that I regretted with this trip, it's the lack of proper planning in the expeditions and in the packing. We never drew a detailed plan of what we wanted to visit before leaving home; we were playing it by ear. Did I mention that I lost half of a bottle's worth of organic concentrated shampoo just because it was in the wrong container? Yup, and all the other bottles packed together with this one were coated with the gooey liquid.
Oh, well.
I guess I can only learn from my mistakes the next time around and I'm hoping that I'll be more emotionally stable when I return to visit Taipei after my graduation.