It's 1.25 am now.
I have no idea what the hell I am doing at this hour and your guess is as good as mine.
Reflecting on the past year, I've never been able to catch an adequate amount of sleep, definitely not to the point where I can arise in the morning and be sure that I slept well. Don't get me wrong; it's not that I haven't been trying. Of course I am doing my best but God knows when my assignments beckon, leaving me awake way past my bedtime (like now and the past week) and looking panda-eyed the next day on campus, I don't really care as long as I am getting it out of my way.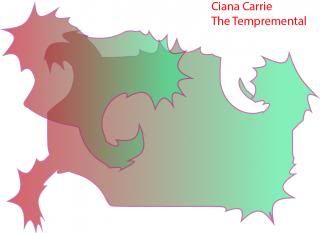 Don't ask me. I was in the mood for a colorful gradient after watching the class tutorial on Adobe Illustrator. Meh, there's an upcoming Adobe Audition test. *sighs*
I am not going to complain about the combined workload and stress that Law and Media Arts have given me because it was kind of expected. Law requires memorization of facts and endless research; Media Arts involves artistic creativity. I have no idea how my senior coped with this combination but she seemed to have loved doing both when I caught up with her during the last semester's International Law Fair and Media Arts Fair. Although I haven't been able to successfully divide my time between friends and assignments, things have finally fallen into the rhythm that I wanted. I'll tell you why; half of the time is dedicated to college work (recently, it's been upped to 75% of my time) and campus-based activities (that I'd love to fully participate if it weren't for the heavy traffic congestion around both buildings) and the remainder that I have, I'm selfish with it and would rather use to it to catch a breather and loll around the house (just figuratively; a literal meaning would be me hopping around like an Energizer rabbit, lol) to my favorite Taiwanese and American drama series.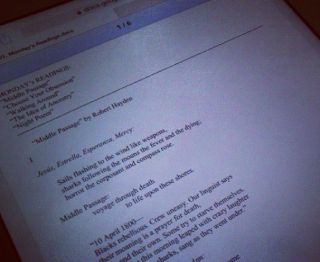 "Work after work. It's no wonder I look like a possessed zombie instead of a nerdy saint as of late. =P #assignments #college #filtered #life #weekends" - Taken from my Instagram account
I'm really sorry if I haven't been regularly updating.
After much thought, it dawned on me that inasmuch as I am trying to avoid a stressful and jam-packed semester, I am dealing with a heavier term this time. Remember how I mentioned before that I went through an intense semester waddling between History, World Issues and Writer's Craft? Well, guess what? In addition to the above-mentioned subjects for this semester, I am taking the onerous and compulsory English as well.
With that being said, you have my word that I will still return to the world of blogging and update this little blog of mine whenever I have the spare time and vision.
Oh. Before I forget, since I wasn't able to sleep even after the draft completion of my assignments, the following free verse is something that I came up with on the spot. It's somewhat inspired by the stories of my close friends.
When I craned my neck into the room,
There was a split second of peace engulfing me.
The sunlight shone into the room,
Radiating it with its brightness and happiness.
When I looked at the broken clock
Hanging on the wall,
The memories of that duration flew back
Like the return of the migratory birds.
I remembered how your eyes lit
Whenever you saw and heard me entering.
Boy, the frown on my face was lifted.
I visualized us exchanging looks
Much to the lovely admiration of our mutual friend.
The way she wriggled her eyebrows at us
Is glued in my memory.
We laughed until our stomachs ached.
We cried until our eyes were swollen up.
It sharpened our feelings.
It made us believe that there was no one but us.
When the news leaked out that we were an item,
Dancing in the eyes of them was pure happiness.
They wanted nothing but the best for us,
Even prayed for us to remain true to ourselves.
You knew me like the back of your hand,
Sensed whenever I was down and weak.
When I was in need of a comforting shoulder,
You were there.
I read you like a book, you used to say.
I saw through your smiles and laughter
That you were hiding something.
Those reticent and trying times,
Well, it merely accentuated your sorrows.
It shattered my heart whenever I saw it.
It reminded me the grave effects of being alone.
You see, I experienced that.
It's of no joke, having to waddle through life
With the emotions dressing each sentence with blades.
My dear friend, it's been an honor.
I don't know where I would be without you.
Who knows?
I could be roaming the streets like an invisible ghost.
I could be watching from my garden chair,
Somewhere up above the soothing, beautiful blue sky.
My dear friend, remember that little package?
The one that contained with those tempting goodies?
The one that made all of us stressed on that Thursday afternoon?
Hah, I am giggling like a child in love at the mere thought.