It's such a pity that I'm no longer that fervent moviegoer who'd scream for joy and beg Papa Carrie whenever a movie of her choice has premiered. Nay, like the rest of the childhood in me, I've grown out of that stage; it's mostly a pick-and-choose method for me nowadays.
I might've bought the DVD in secret – well, not exactly since the two friends I was with were pretty much aware of the intention – but I'd still rather purchase the movie ticket and bawl with my movie companion over the emotional scenes – if I can make it. Truth be told, it's not for the plot that I'm watching it, it's not even for Ella (from SHE) or Zai Zai (F4). It's more for the little Xiao Xiao Bing.
The trailer has burnt my eyes more than once. So yeah, it did tug at the heart of the viewer in me.
Right now, nobody seems to know when it will arrive at our shores. Maybe it didn't do that well in Taiwan. Maybe the local movie franchiser hasn't bought the licensing rights. All I can say is that those folks in China and Taiwan are really, really lucky to have caught the movie for the Chinese New Year period.
I'll play it by ear; if the movie and I have no fate, only then will I remove the DVD from its hiding place and whack it into the player, sacrificing one afternoon watching it.
And write a movie review on it.
Sure, the occasional trips to the cinema with friends may be relieving on my part since it allows me to get away from the neighborhood stress but it doesn't work all the time.
Ms. N's right; you can choose anyone but your family and neighbors. This kind of stress is new; I'm not adapting to it very well especially when it involves a mixture of kindergartens, noisy children, quirky pets and the many colors of certain neighbors.
*shoots glances here and there*
Methinks the permanent solution would be for me to pack my bags and call it a day, which will be coming soon, that I can tell you. But it brings me a set of petty issues. A part of me wants to leave unnoticed but the other part is reminded of the idiom – out of sight, out of mind – and doesn't want the past to repeat itself.
I'll figure that one out when the time comes.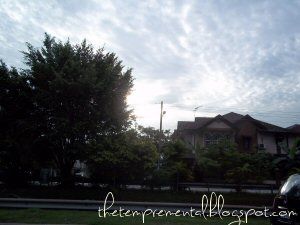 Accepting and burying the past with the key thrown into the straits was tough but it was for the best. I had the feeling that if I had continued wallowing in the past, it'd be a downward spiral to the dark world of depression.
Believe me when I say that my past contained a whole load of messy, complicated matters because it really was that.