If the title sounds familiar, it's part of the chorus from the hymn "Spirit of God"
Chasing someone for something that belongs to you is literally asking God to give you immortality. That's how I feel, really. Just because there's a geographical distance between us doesn't mean that I can be brought around the world in dizziness. Please, I'm fed up of all these BS excuses (pardon my language here) which I suspect is being played out by a hidden shadow.
What, man!
What's so difficult in admitting that alright, I'll return what is yours and we're officially done? Oh hell, yeah, I know I'm being taken advantage of but the annoying part is that I can't do much without the tangible proof.
There's so much more to it than meets the eye.
If there is such a proof to prove that I'm wrong, he's right, then fine, I'll swallow it with a pinch and treat it as lessons learned, but if I can prove that he's wrong, I'm right, then can I verbally bash him up? Because I'm so fed up that if I have the right connections, I'll love for the person to pay for his sins until he returns what is rightfully mine.
As the Chinese saying goes, whatever Man does, God is watching. Did people really think that whatever they have done can be kept hidden forever? It's simple; the guilty ones in God's eyes will have to pay for it either in the same manner or in a different manner than what they've done to others.
Terrible!
Well then, before I emotionally explode at the computer screen, I will let the God handle this one I've always allowed Him to and sit back and watch the story unfold into the next chapters.
Speaking of world distance, it's been hell of a day for me. Imagine having a whole load of errands to run in one afternoon…. it however didn't work out according to plan. Some errands had to be left out – because there was time constraint and the department in charge closes early.
Heh!
Among the errands was the trip to Ikea. Don't look at me, the explanation will be given shortly.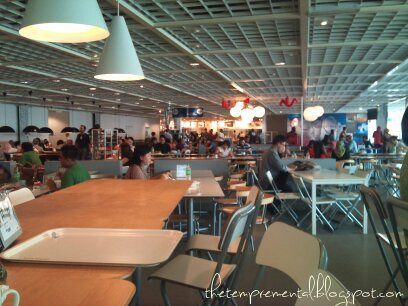 But anyway, a trip is a trip. No point arguing about it.
Tagged along and grabbed a couple of items for the house as well. Well, 2 extra pillows to be exact. It's not that the ones I've have are giving way; it's just that it's better in the event a guest suddenly decides to arrive for the night with only a moment's notice.
I scowled when I noticed that the supply of the red cheese grater was discontinued, have already grown accustomed to that one as it doesn't injure the fingers. Too bad – but not when it's part of the kitchen utensils that I unintentionally left at the old place! Who in the world is going to remunerate me for those items?