On those Sundays when I don't attend Mass, I'm usually sprawled on the bed catching up on the previous episodes of my favorite shows on TV.
But today was an exception.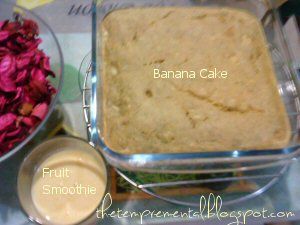 I took a break from the idiot box and baked another batch of the
banana cake
recipe that I posted yesterday to accompany the mango fruit smoothie.
It's really easy; throw in the diced mango in the blender, pour in the yoghurt and blend it away. If you are however like me, you can use Breville's smoothie mixer instead.