The 2nd trilogy to
The Sweetest Escape (Almost!)
...
Seeing that it neared lunchtime and the restaurant Teochew Mama had in mind was within a stone's throw from the town center, she asked if Tony (our friend) was fine with having lunch at this timing of 11.30am and headed straight there.
Allow me to say that like other shops in Muar, this restaurant has been in its current location for the last decade or so as it had already been enjoying brisk business when I was last there. It had been introduced to us by one of Papa Carrie's former clients, a man who runs a fruit shop business with his wife nearby (next to Hong Leong Bank?) and who sold the box of fruits (usually, it would be NZ Rose apples) of our choice to us at a cheaper rate.
But enough about the past.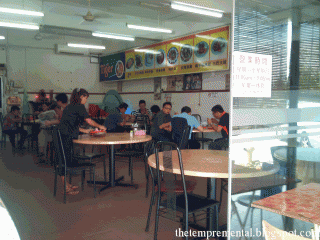 We were the first customers as they had just opened for the day, and our orders were promptly received and attended to, with Teochew Mama being the decider. Gee, what do you expect? She's the only one who's not the typical banana and, even in her degraded fluency, still can handle Teochew (now you know why she's addressed as such on the blog; she's a purebred Teochew!) and Mandarin.
P.S. There's a saying in Muar that Teochew girls are beautiful.
The famous Asam Fish Head/Meat (RM 20.40)
That's not the actual price per kg; the cook will weigh the fish of your choice first before you decide if you want that piece or not. Teochew Mama doesn't remember the price per kg. *shakes head*
Although she had asked the cook to lessen the salt, it was still a tad bit too salty for my liking but what we liked was that there was still a faint twinge of sourness to the dish. Tony suspected that chili oil may have been used, because there's no way the gravy can be oily with specks of red.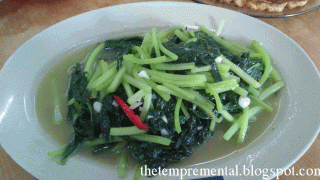 Stir-Fried Sweet Potato Leaf (RM 6.00)
Teochew Mama loved this dish, as it was perfectly what she had wanted, with less oil and less salt being used in the cooking. To me, it tasted like something that she would whip up at home - if in the mood.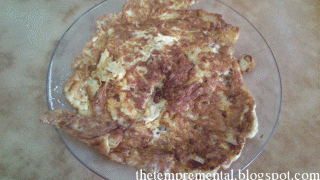 Fried Egg with Dried, Salted Radish (RM 3.00)
3 bucks for a plate of fried egg is impossible to find in the city but in small towns like Muar, it's possible. The restaurant does offer the oyster omelet but seeing that I can't handle oysters at this moment in time due to the ever-occurring rashes, she instead ordered the fried egg.
It wasn't salty like the asam fish, but it was shocking to see the amount of oil used to fry the egg. I had kind of wished that Teochew Mama had told the cook to go slow on the oil.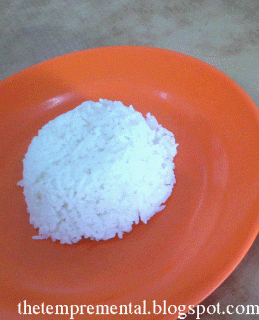 Rice (RM 0.60 per bowl)
It could have been more, but since Tony had mentioned that he wanted the small bowl, the both of us agreed to follow suit. If it's just me alone, I'll definitely have ordered one small bowl and one big bowl, since I'm a big rice lover. >=D
Chinese Tea (RM 0.80 per glass)
This was Tony's drink; I didn't ask him how it tasted, but all Chinese tea would have a similar taste - I hope.
As always, my findings can always differ from the general foodie's point of view as I'm fussy on the amount of salt, sugar and oil.
Address: Merlin Restaurant,
90, Lorong Dua,
Tmn Orkid,
84000 Muar,
Johor
Tel: 06- 952 6971
Business Hours: Tuesday - Sunday, 11 am to 9 pm. Monday is their off day.
There are no visible landmarks, but what I can tell you that is if you're coming from the town centre on Jln Bakri, the entrance to the restaurant would be on your 1st right turn, with a huge signboard showing "Merlin Restaurant" telling you that you're on the right track.
If you're unfamiliar, don't hesitate to ask any one of the locals there. I'm sure they would be more than willing to help you out with directions.