No wonder my system felt like it was being dragged to leave town.

No wonder.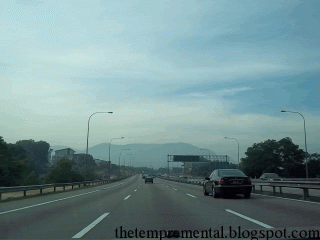 Seeing that our imminent presence were highly required yesterday, we departed smack dead early in the morning and made sure that the car had enough fuel and liquid to sustain the drive down south under the melting sun, remembering to pick up the longtime friend in Sri Petaling on the way, finally shot away from the city.

For 2 1/2 hours, we were surrounded by the hilly palm plantations and trees that created beautiful sceneries, scenes that were worthy enough for any photography-loving traveler. Conversations killed the boredom; our friend, being the humorous kind of fellow, pumped the air with random banters before the topic was steered back to safer grounds.

I can't help but wonder, if it's so humorous, how come I don't have any collection of it?

Anyway, I was the quiet soul, allowing the mind to drift away to better territories. An urgent departure is something that I don't handle well, especially when it requires me to be still in the car for more than 1 1/2 hours.

Well, no one can predict such a move.




It took us another 15 minutes from the Tangkak exit, passing by two cemeteries and village areas (what, Sungai Chinchin?!) to arrive at the Muar town, and up the bridge.

Tony: "So, here we are, the famous Muar Bridge."
Teochew Mama: "What? No. It can't be..."
Tony: "It is..."

We went straight to business, and while he and I waited in the stationary double-parked car for Teochew Mama to return, a white-clad traffic police appeared out of nowhere, scared the hell out of me, especially. We both watched his actions and were rather relieved when he left without issuing us a ticket. She had just been slapped with a hefty fine, and didn't want to attract another traffic ticket so soon, and certainly not in another town.

And with that, a two-course lunch shall be posted as food reviews instead later. Duty calls, what.

We ended up at the other end of Tanjung, where I whipped out the camera and took random pictures of the area while the two older folks waited in the car.

More pictures can be found here: The Sweetest Escape (Almost!) album on Facebook.

With all of our stomachs satiated, she took the almost-forgotten route to the place where her favorite otak-otak manufacturer once was, and it turns out he's still in the same area! As surprising as it was to me, the uncle remembered her and even remembered that it had been 8 long years since we swung by for a bulk purchase!

Wow, that chap really has a good memory.

She made up for lost time, and bought packs of his otak-otak home to sink our faces into while I asked for a business card, in case we are in Muar again and in case I'm doing a review on it. Once that was done, we shot out of the town and returned to the expressway via the same way.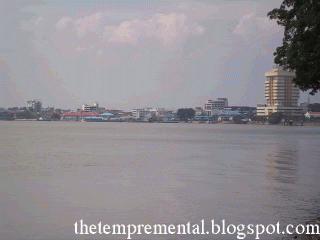 She called for a break, suggested that we have a drink at this longtime coffee shop in Sungai Mati (yes, you read that right), which we did. You may ask, why on earth did I make faces when I chose to order a cup of pure black coffee? First, that was Teochew Mama's order and second, it had a different texture and taste to the one we'd usually have KL.

Okay, I admit. Cappuccino is more of my forte in the coffee world.

The lady boss mentioned that she could've made it thinner if we wanted to, but how were we to know? I don't think I've heard anyone making such a request at a coffee shop in my area. But then again, I hate it whenever my drinks are tainted with saccharine.

The return drive home was eerily quiet that our friend fell into a sudden, comfortable sleep at the back and while the exhaustion had crept into me, I wasn't willing to allow myself to knock off into a deep sleep and sustain a sprained neck, especially not in the tight space that I had. With Teochew Mama back on the wheel, the mind drifted away yet again, but to create and finalize the scenes for Tuesdays in it, this time.

After paying the dues at the tollhouse, we could barely remember the road to Sri Petaling. When Tony suggested that we take the turn up to Miles (which would be the wrong one and lead straight to his residence instead), I jumped in and said that it's not the right one, which earned me a momentarily reprimanding from her.

The traffic signboard that reads Kompleks Sukan Negara (it's the National Sports Complex in Bukit Jalil) can't be wrong, right? If you hadn't known, our traffic signboards here are excellent in confusing the unfamiliar driver as it is always placed after the exits. Once you've taken the wrong road, it'll take you a long time to find a U-turn and return to your actual destination. Sigh!

Does anyone know if the company behind NSE has increased the toll prices? Kesas has since decreased theirs - by 50 cents. Not much, but still something.

It neared the peak-hour traffic congestion after we dropped him off back and we headed straight home to the self-sufficient suburb with little traffic, thankfully. Even though I was dead exhausted when we arrived home, I rushed home to expose the laundry outside while it still could catch the sun.




After the exhausted sleep and the night to dwell on it, I'm afraid I'm more emotionally exhausted than I was before we left. I am resigned to the fact that I am more upset than I am angry, as what I had been briefed on was a 180; the truth of the matter was totally different - something that was unexpected! I think anyone in my shoes would have about the same reaction as me.

I'm not going to elaborate on the matter that is now bugging my emotions because the mere thought of it would send the pressure and anger up into my head, and the whole vicious cycle would start again.

(On another side, you, don't call me on my cell or house line. I'm not in the mood for calls now as both the handset will be heated up and my ears will sweat.)

I want to purge my system of its emotions before I catch myself yelling at the neighbors again and usually, it will have been reduced by 50% after a night's worth of good sleep. It's not working in this case; in fact, it's leaving me antsy and fidgety over irrelevant things. Well, in that case, I might just have to injure the doors by slamming it with such force that the frame rattles followed by rantings in yellow-infused statements at ear-deafening volume.

Tell me, how can it be the sweetest escape when it was marred with negative surprises, and a waste of time and gas? For that amount of time spent in the towns and on the road, I could've been shopping my heart out in Sunway Pyramid and enjoying the air-conditioners.

Who knows I might have been able to slot in some time to watch a movie of my choice?

I'm off; when there's an onset of a terrible headache, it means that I better run off before I explode into pieces.