The plan was to explore Empire Gallery for some shoes at a discounted price and maybe a couple of T-shirts to compliment them before extending it to the nearby Subang Parade. But before we were able to call it a day, Teochew Mama growled that she was starved. We took our time, debated between I Love Yoo! and Pasta Zanmai before deciding on the latter and dividing the meal into two.




The lunch crowd had started to flock into the restaurant the moment we were seated and given some time to mull over the countless varieties of dishes that ranged from rice to pasta, fish to seafood.

We placed our order with the waitress without any further do, and happily waited for the order to be completed and delivered to our table.

First, came the iced lemon tea (RM 6.00 for a glass), plain and without any added sugar.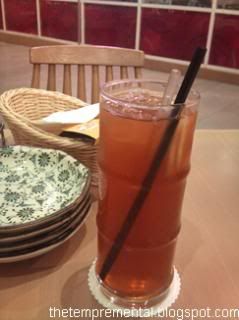 Iced Lemon Tea (RM 6.00 for a glass)

The first sip told me that there was a trace of Ceylon tea in it and a whole load of freshly squeezed lemon juice in it, almost turning my teeth sour. Teochew Mama loved the bitter taste to it, said that it suited her just fine.

She wouldn't be able to finish the drink if she wasn't sharing it with me because she dislikes cold drinks. This was not our first choice; we were actually looking for a hot drink, something like green tea but couldn't find it on the menu. It wasn't until after we placed the order that I saw someone on the adjacent table enjoying a jug or cold green tea and his food companions sharing a pot of hot green tea.

Next came the set that I ordered, Tori Tortilla MP (RM 25.00) that included.....




Chicken Cream Pasta (exact name, I have forgotten) and Soft Shell Crab.

Now, let's talk about the main dish.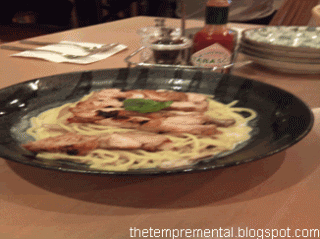 The moment the pasta arrived, the aroma of the dish knocked her right in the nose, rendering her taste buds numb. It was after I tasted the sauce that I knew what she meant. The sauce was cooked with butter and cream, and she doesn't like the latter, especially.

The spaghetti was perfectly cooked; although it was chewy, it was not to the point that I couldn't break it with my teeth easily. As for the chicken, she commented that it had to be grilled with black pepper; she was sure she could taste it on each bite.

But what about the soft shell crab (individual plate at RM 16.00)?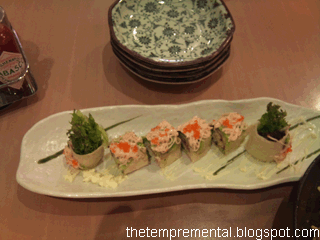 When the plate was placed on the table, the hints of green in the wrap made me suspicious if avocadoes were used as an ingredient as only that item will produce such a color. After a quick check with menu, my suspicions were proved true.

There were indeed avocadoes in it.

Crap. For someone who doesn't have a penchant with the fruit, ordering this might rub off on you as weird, right? But since the other set meals didn't quite appeal to me, this was the only choice. I'd have loved to order seafood pasta but I couldn't quite risk a rash attack and scratch my fingers the whole night long.

Oh, yes, seafood is now forbidden. =(

Upon the first bite, she mentioned that she loved this dish as it contained neither butter nor cream and neither too sweet nor too salty, just the right consistency of mayonnaise. Without much hesitation, I asked her to polish the plate as I knew I'd have difficulties downing the pasta and polishing hers.




My only pet peeve?

The lack of soft shell crab. You'd have dig deep into the middle before you are able to bite onto the crab, and it'll smooth down your throat within two bites.

I however liked that they chose to wrap it with pieces of lettuce leaves.

Yes, I wanted to sample their parfait or their desserts but I had difficulties swallowing the last bits of the soft shell crab and burped twice while the cashier sealed the purchase, waited for the credit debit card approval. There's no way I can order a scoop of green tea ice-cream or parfait without kneeling in front of the toilet bowl and puking everything into it. (I've done that too many times during my younger days at Hotel Equatorial KL's Kampachi buffet brunch; back then, I had a voracious appetite in food. Nothing could satiate me.)

Now I know what Kar Wyai meant when she said that she felt like throwing up after finishing the meal. The sets were definitely designed for couples or a group of two diners, as the portion is a tad bit too much for one person.




Address: Pasta Zanmai
LG33, Empire Gallery,
Jln SS16/1,
47500 Subang Jaya

Tel: 03-5637 1910

Landmarks: Kenny Rogers Roasters, Gelato Fruit, I Love Yoo! and Speedy