In continuation to the previous blog post, here's the promised food review that took me so long to write.
After Kar Wyai had brought me to this little shop in Asian Avenue where I splurged on more accessories, we shot straight for Pasta Zanmai since she had the craving for Japanese food and since it was within steps away.
We followed the waiting waitress with what sounded like Beijing-accented English inside the packed restaurant. There's no way of telling if she's really a Chinese, but I'll leave it at that. She led us to the only available table, which was in the middle of a group of four working colleagues and a family of mother, father and son. She left us alone; she allowed us some time to finalize with our order, which we did.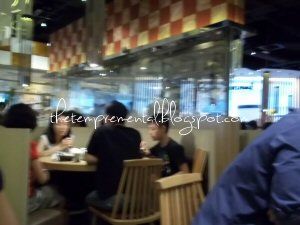 This happens when one is bored.One starts taking random pictures. The working man at the next table shot glances at me, my food and my camera for what, I don't know...
From my seat, I could see the clock in the restaurant's kitchen and shot oblique glances at it, mentally noting the time. I didn't know how long it took for our dishes to arrive; it was about 10 minutes after our order was submitted that the drink arrived. Waking up with a full stomach and skipping breakfast wasn't bad enough; waiting for 30 minutes for the dishes to arrive was excruciating for us but none of us had a choice, do we?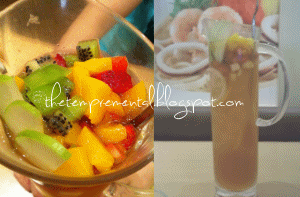 Fruit Tea
Couldn't help it; it was at the peak hour of lunch break, so while we waited for the kitchen to whip up our dishes, we walked through a variety of our past memories and reminisced on our elementary classmates – there's only a handful I can remember, one I want to verbally strangle with my bare hands now – and Blue's Clues! You read that right.
So, after what seemed like eternity, our dishes finally arrived but we remembered to take the pictures of it and us for this little food review before we pounced on it.
Top: A set of Chicken Teriyaki Omelet (with Garlic Fried Rice), Miso Soup and Salad
Bottom: A set of Tori Tortilla with Chicken Pasta and Crab Meat Roll
Mine are the ones on top; Kar Wyai's ones are at the bottom.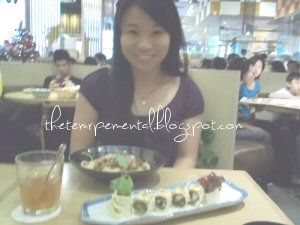 Kar Wyai, with her order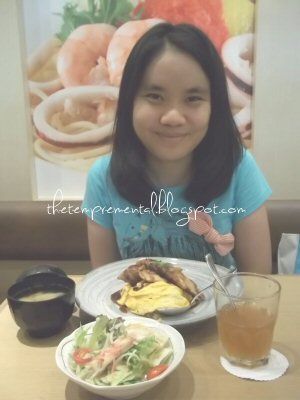 Yours Truly, with her order
We had great difficulty polishing the plates clean and there was no more space in our stomachs to sample the parfait that
Huai Bin
had mentioned in one of his posts. You see, our stomachs almost exploded at the surprisingly-normal portion.
Next time.
Next time, we shall skip the main meal and head straight for the dessert section.
Was I happy with the service? I won't say that I'm happy, but I was satisfied with the service. The waiters were trying their best to satiate the bored, hungry diners as fast as they could. Well, at least my order wasn't forgotten – like that time at Chef Low's place.
Address
: F1.73, Sunway Pyramid Shopping Mall,
3, Jln PJS 11/15, Bandar Sunway,
46150 Petaling Jaya, Selangor
Telephone
: 03-7492 0710
Landmarks
: Find Shojikiya, and you'll find Pasta Zanmai. Other neighbors include the Orange Zone entrance into Jusco and the New Wing entrance into Asian Avenue - all on the 1st floor.