You see, I had caught wind of the supposed apparition of Mother Mary many days ago (hence this
tweet
of mine) and even passed by SJMC - now known as SDMC - yesterday on the way back, but didn't intend on paying a visit because I wasn't even sure if it was really real.
Mama Carrie literally dragged me there.
"On this day, O Beautiful Mother...."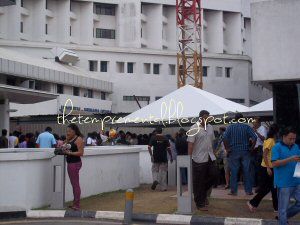 The huge crowd that turned up in curiosity and humility to observe the apparition. Surprisingly, a couple of non-Catholics turned up too.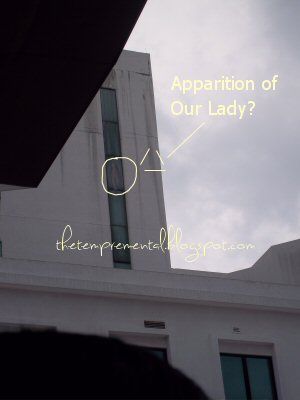 Here's the
actual picture
. You'll have to zoom in real close to see it.
The image will be on the third window on your right.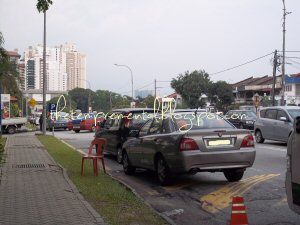 I'm not sure if you can see it but if you look closely, you can see the long queue of cars, waiting for the traffic light to turn green.
The amount of parked cars. There are not so many cars parked at the roadside on a normal, given day. I know this because I still have friends living there and visit them on a frequent basis.
And did I mention that I'm from here too?
Anyway, I'm patiently waiting for the Church's official comment on this. Until the window glass arrives in Church of Our Lady of Lourdes, Klang, you can swing by SDMC if you want to see it with your own eyes. A word of note, though. If you're going, bring along the best binoculars you can find and the best camera you have.