Mama Carrie almost picked up the packet of sushi from Jusco when I spotted the restaurant called Simple Life and told her about
Fish's food review
of it.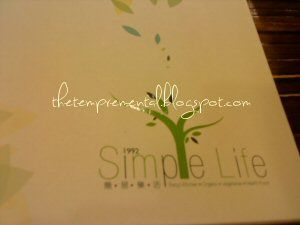 We were thrown into a dilemma between Simple Life and the next door Garden. But seeing that our stomachs were growling for food, we settled on this restaurant and were given the menus after we choose our table and some time to pick our choice.
I went undercover because I wasn't sure if the management would agree to the sudden food reviews. Certain restaurants have a policy that the food reviewer has to email his/her intentions to them and seek their permission beforehand.
To cut a long story short, I had settled for this:
Bitter Gourd Brown Rice Mee Hoon Soup, RM9.90
The natural colors of the vegetables had been retained after being perfectly cooked to liven up the dish with the goji berries - kei chi in Cantonese - providing the faint hints of red. It unfortunately didn't do much to balance the salty soup.
Mama Carrie had a sip of it and cringed at the taste. I barely tasted the soup as I was more focused on finishing up the vegetables. Which I did, although I couldn't finish the noodles. The portion was a little too big for the starving me, left me craving for sleep after the meal.
I suddenly started sweating profusely, craved for the mall's air-con and looked around. None of the diners having the similar dishes was having the same problem. Oh, boy, it was at that moment that I regretted for not ordering something that was on the cooler side like that plate of spaghetti.
While Mama Carrie settled for that:
Brown Rice Nasi Lemak, RM13.90
When it first arrived, I was envious that she had ordered this dish but as we started eating, her face started to droop downwards. She didn't fancy the dish at all, commented that the rice wasn't properly cooked and the
sambal
was tad too sweet for her liking.
I reckon she prefers BMS Organic Cafe's version instead.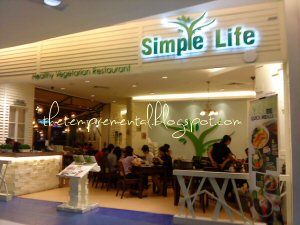 I'm not sure if I'll return to this restaurant for a second time. Unless I'm spending the day out with friends, I'm rarely at Sunway Pyramid and most of these trips are always at the spur of the moment. Like today.
Hmm, this should be one that Jason Yeoh (from
Taste of Jason
) introduced on his new program many Sundays ago. I thought I saw the preview... the dishes sure looked similar.
Address:
Simple Life,
LG2-12GA, Blue Atrium,
Sunway Pyramid Shopping Mall,
3, Jln PJS 11/15,
Bandar Sunway,
46150 Petaling Jaya,
Selangor
Landmarks:
J&Co Donuts, Garden Restaurant and the entrance to Sunway Lagoon.
Telephone:
03-5611 8596
Website:
Simple Life